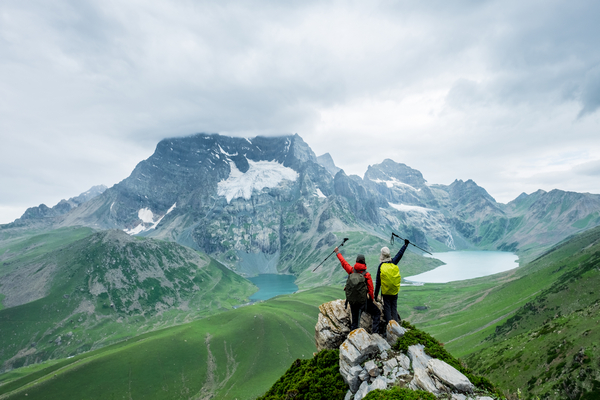 Trekking
Trekking is the activity of feeling close to nature with every walking trail. The towering Himalayas provide a fantastic opportunity for travelers on their journey of self-discovery to take the path less traveled while in Kashmir. The rocky and undulated areas of heaven on earth provide trekkers with the adrenaline rush they're looking for in the highlands of Kashmir. These hikes take you through vibrant meadows, gorgeous lakes, rolling hills, imposing glaciers, lush forests, and sparkling streams, all of which provide the best views for trekkers.

Kashmir's hiking routes, which are divided into short-term and long-term treks, cater to both beginners and specialists. Short-term treks include any paths that are located in low-altitude areas. The treks to the famous picturesque places of Sonamarg, Pahalgam, Gulmarg, and Kishtwar are ideal for beginners. They have as many trekking options as the landscape of Kashmir itself. Depending on one's interests, one can go on a relaxing trip around Dal Lake or a fully guided trek over the Himalayas' narrow rocky trails.

Contrary to popular belief, there are some dangerous and difficult routes that are only suitable for professional trekkers who see trekking as a map-hunting assignment. These routes include areas that are not accessible to tourists, as well as other fascinating activities such as rope climbing, rock climbing, paragliding, and more. The greatest treks to do in Kashmir include Kashmir Great Lakes Trek, Tarsar Marsar Trek, Naranag Mahlish Trek, Naranag Gangabal Trek, Aru Kolahoi Glacier Trek, Sonamarg Vishansar Naranag Trek and Kashmir Alpine Lakes Trek. Trekking is one of the top things to do in Kashmir which you can't afford to miss.

PLEASE INFORM THE LOCAL AUTHORITIES BEFORE EMBARKING UPON LONG TREKS TO ENSURE YOUR SAFETY.