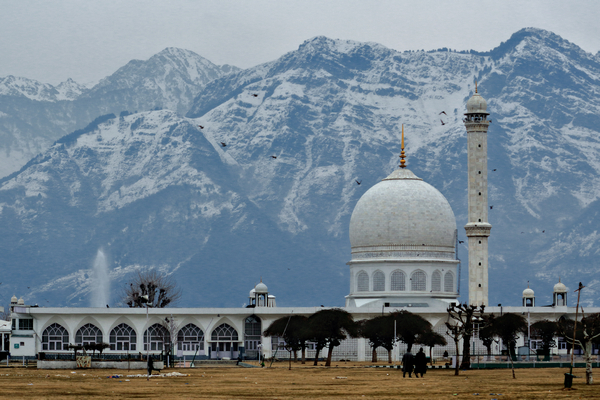 Dargah Hazratbal
Dargah Hazratbal is a silvery-white mosque on the left bank of Dal Lake that emits unrivaled attractiveness and peace. The shrine, also known as 'Assar-e-Sharief,' 'Dargah Sharief,' and 'Madinat-us-Sani' (second Madina), is located 8 kilometers from Srinagar's city center.

Hazratbal, Kashmir's holiest Muslim shrine, houses the Moi-e-Muqaddas, an ancient relic that contains a strand of Prophet Muhammad's sacred hair. Syed Abdullah, a supposed descendent of Prophet Muhammad who had resided near Hyderabad, brought it to India. The Syed family's lands were confiscated after the Mughal conquest. Syed Abdullah's son, Syed Hamid, who had acquired the relic's custody upon his father's death, was unable to care for it. He sold the artifact to Khwaja Nur-ud-Din Eshai, a prominent Kashmiri trader. When Mughal Emperor Aurangzeb learned of the situation, he confiscated the relic, dispatched it to Ajmer Sharif, and arrested Nur-ud-Din Eshai.

Aurangzeb then changed his mind and decided to return Khwaja Nur-ud-Din with the relic and an escort to his homeland. Eshai died on the trip, and the relic was passed down to his daughter, Inayat Begum. In 1699, the holy relic arrived in Kashmir and was installed at the Naqshband Sahib shrine.

However, the shrine was judged unsuitable to keep the priceless relic due to concerns about overcrowding. It was quickly relocated to the Hazratbal shrine. At the time, Hazratbal was a prayer place known as Sadiqabad after Sadiq Khan, who had built it on Shah Jahan's orders. Sadiq Khan had originally built Ishrat Mahal (Pleasure House) on the site, but it was demolished after Shah Jahan came to see it and ordered that it be transformed into a prayer house.

After an 11-year renovation, the Muslim Auqaf Trust presented it with the stunning alabaster-white marble building. The mosque is the only domed mosque in the valley and has a distinct Persian style construction. Dargah Hazratbal is a place of remarkable beauty in addition to being the most revered Muslim religious destination in Kashmir.

It has a beautiful view of the Dal Valley and the surrounding mountains. The vista of the Nishat garden from the entrance is breathtaking. Despite the fact that the hallowed relic for which the temple is famous is only exhibited to the general public on rare occasions, people go to the shrine in large numbers every Friday. Dargah Hazratbal is more than a shrine; it is the essence of Kashmiri Muslims' love and devotion to the Prophet.