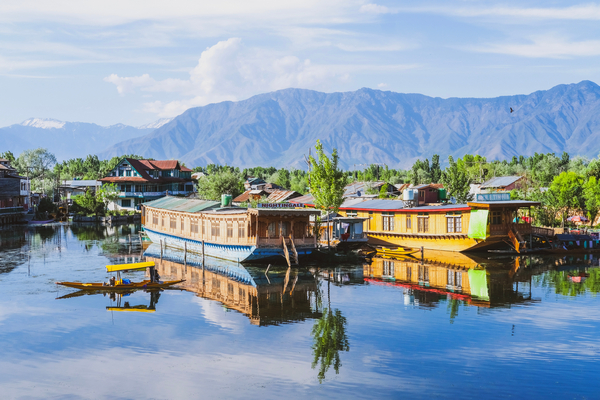 Staying in houseboats
Better known as floating houses, Houseboats are often preferred by couples looking for honeymoon places in Kashmir. These are stationary boats moored along the peripheries of lakes of Srinagar that blend the services of a hotel and homestay on the water.

Houseboats differ in size from a basic one-quarter room to big luxurious suites. Traditional ceilings, wood-paneled interiors, and paneled cedar walls with elaborate hand carvings of floral and Chinar themes are among the features. Crystal chandeliers grace the sumptuous interiors, which are equipped with Kashmiri carpets and beautiful furniture. They have a beautiful front-facing balcony as well as a fancy-looking sun terrace.

Houseboats provide delectable multi-cuisines, including Kashmiri Wazwan, as well as top-notch amenities such as WiFi, hot tubs, mini-libraries, and Shikaras for getting to and from the lake's attractions. Houseboats are a symbol of Kashmiri culture, and they resemble elegant medieval artwork.

Wrapped in serene scenery on all sides, anchored in peaceful lakes, living in these luxury abodes is an experience of a lifetime. The mornings are sun-kissed, while the night is illuminated by decorative lights. Nothing will be good enough for you once you've stayed here.