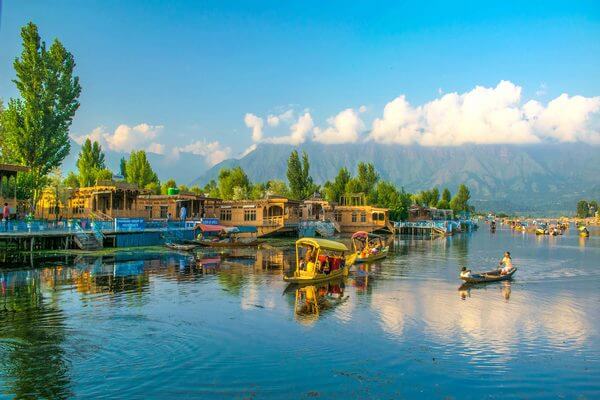 Dal Lake
Dal Lake, synonymous with Kashmir tourism, is Srinagar's crown jewel. This Himalayan urban lake is the second largest lake in Kashmir. The lake is 5 feet deep on average and is divided into four basins: Bod Dal, Nagin, Gagribal, and Lokut Dal. Sona Lank (Gold Island) and Rupa Lank (also known as Char Chinari) are two islands in the middle of Bod Dal and Lokut Dal, respectively.

A boulevard surrounds Dal Lake's 15.5-kilometer waterfront, which is flanked with lovely Mughal-era gardens, beautiful parks, and luxurious hotels. Dal Lake's tranquil setting amidst rolling hills, snow-capped mountains, and distant landmarks like Hari Parbat, Shankaracharya Temple, and Hazratbal Shrine enchants its tourists' hearts and souls.

Shikaras, or colorful canopied boats, float peacefully across the mirror-like waters, providing guests with a soothing trip. Dal's serene surface is also bordered by beautifully crafted houseboats that float in the calm waters with perfect balance.

Dal Lake is also noted for its vibrant floating markets, called "Raad" in Kashmiri. Native handicrafts, indigenous saffron, foods, snacks, and even ice creams are sold at these markets. As a result, Dal Lake's sweeping beauty can compete with Venice's.
How to reach
How to get there: Tourists can take a taxi to Srinagar's Lal Chowk and then take public transportation, such as state buses, to Dal Lake through Boulevard Road.
Best time to visit:
March to November