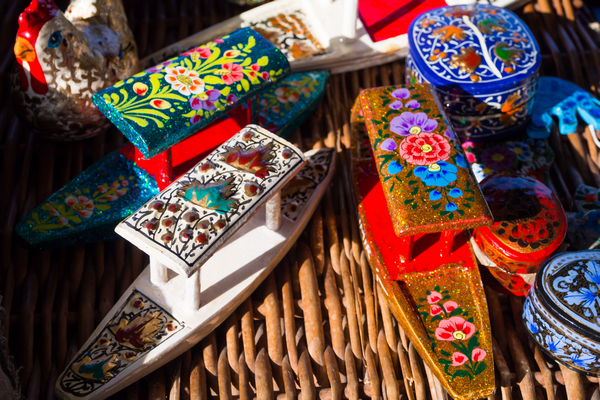 Papier-mâché
The art of moulding raw paper into aesthetically pleasing objects, known as papier-mâché, is a widely practiced art form in Kashmir. The popular craft technique derives its name from the French language meaning chewed paper. Mir Syed Ali Hamdani, a Persian saint, first brought it to Kashmir in the 14th century. He brought 700 artisans from his home country to Kashmir during his visit. Local Kashmiris were taught a variety of crafts by these skilled artisans, including papier-mâché.

Kashmiri artisans added their own touches to the art form over time, gaining international recognition for their work. Vases, bowls, cups, jewelry, coasters, storage boxes, pencil stands, miniature hookah pots, and a plethora of other small décor items are among the delicately decorated vibrant artifacts. Stools, small chests, cabinets, and lamps are among the many pieces of furniture made of Papier-mâché.

Chinar leaves (five-pointed leaves), floral patterns, almond designs, Hazara (thousand flower pattern), jungle and its scenes, birds, Mughal era inspired designs, geometrical shapes, and so on are some of the common motifs found in Kashmiri Papier-mâché, one of the oldest form of Kashmiri Handicrafts.