Dachigam National Park
Dachigam National Park, one of the most prominent parks in Kashmir, is located on the east bank of Dal Lake and is part of the Zabarwan range of the Western Himalayas. It was built on a 141-square-kilometer plot of land around 22 kilometers from Srinagar to provide pure drinking water to the capital city. In 1952, it was designated as a wildlife sanctuary, and in 1981, it was designated as a national park.

Dachigam means "ten villages," which refers to the number of villages that were relocated to make it possible. The park features an irregular landscape that progressively widens on a plateau after reaching an elevation. As a result, Dachigam has a wide range of altitudes, spanning from 1600 to 4200 meters above sea level. Subsequently, the park is divided into two sections: higher and lower region. Both regions are breathtakingly lovely. With undulating alpine pastures, high wooded slopes, and exotic floral blossoms, the scenery is breathtaking.

Every season, the park's scenery takes on a new persona. In the winter, it wraps itself in a comforting white mantle. With the arrival of summer, the snow melts, revealing emerald greens that contrast sharply against the snow-covered peaks. The crystallised waterfalls and streams defrost and gush through the park. In the fall, the crisp red, golden-yellow, and orange leaves adorn the park in vibrant colours and transform it into autumn foliage.

Dachigam National Park is rich in flora and fauna. This scenic place is a well-known home of Hangul (Kashmiri Stag). Musk deer, brown bear, Himalayan grey langur, leopards, jungle cats, Himalayan black bear, yellow-throated marten, and wild goat species such as markhor and ibex can all be found in the park. Dachigam is also home to a variety of birds. Black bulbuls, cinnamon sparrows, Himalayan monals, Kashmiri flycatchers, and numerous kinds of colorful pheasants, including the crimson tragopan, iridescent monal pheasant, blood pheasant, and koklass pheasant, are among the uncommon birds found there.

Bring along binoculars and catch a glimpse of golden and bearded vultures as they circle in higher skies. Trout are among the park's other residents. There is a trout reservoir on the park grounds, but access to it requires special permission from the wildlife warden. Dachigam's flora includes wild cherry, pear, plum, peach, apricot, walnut, chestnut, oak, willow, poplar, Chinar, birch, pines, and elm trees, as well as oak, willow, poplar, Chinar, birch, pines, and elm. Aside from that, it has about 50 tree species, 500 plant species, and 20 shrub species. One visit to Dachigam is insufficient due to the abundance of wildlife. Keep in mind, however, that the park is closed from January to April, and entry requires a special permit from the Chief Wildlife Warden's office.
How to reach Dachigam National Park:
Dachigam can be reached via buses and cabs through Srinagar. The place is quite commutable. Lower Dachigam is connected to Srinagar through a road, but upper Dachigam is only accessible through a trek.
Best time to visit Dachigam National Park:
The best time to visit the Upper Dachigam is from May to August, while for the lower Dachigam, it is September to October.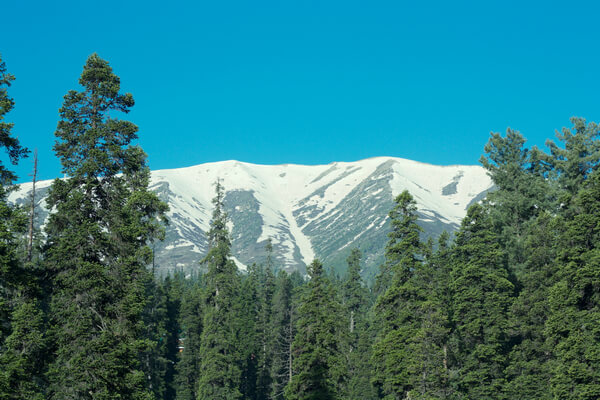 Gulmarg Biosphere Reserve
Gulmarg Biosphere Reserve, blessed with abundant biodiversity and located 48 kilometers from Srinagar, is home to rare kinds of flora and fauna in the Himalayan environment. The protected area, which spans 180 square kilometers and lies between 2400 and 4300 meters above sea level, is home to a diverse range of vegetation, wildlife, and avifauna.

The musk deer is the primary attraction in the fauna, but you may also see Hangul, snow leopards, brown bears, black bears, red foxes, and spotted deer. The avifauna includes a significant number of native and migratory birds such as the griffon vulture, monal, snow cock, koalas, blue rock pigeon, Kashmiri roller, European hoopoe, and jungle crow.
How to reach Gulmarg Biosphere Reserve
Either board a bus from Srinagar to Tangmarg and then hire a shared cab to Gulmarg or book a direct taxi from Srinagar to Gulmarg.
Best time to visit Gulmarg Biosphere Reserve
September to March (to spot mammals), March to May (for birdwatching).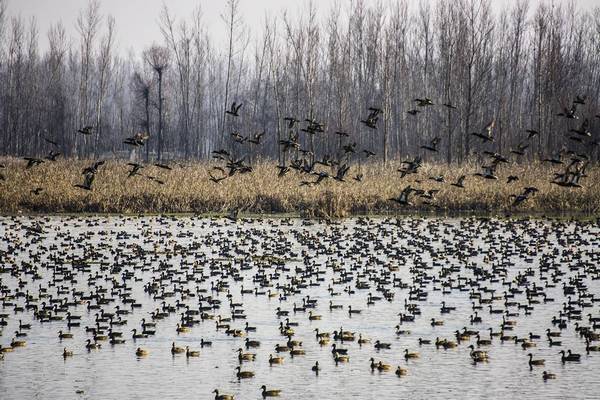 Hokersar Wetlands
Hokersar Wetlands, in the Zainakote neighborhood of Srinagar, are the largest of Kashmir's nine wetlands and are only 10 kilometers from the city center. It is regarded as the 'Queen Wetland of Kashmir,' and it welcomes around seven lakh migrating birds every year. It is spread out over 13.75 square kilometers.

If you enjoy birdwatching, come to Hokersar when winter arrives in the northern hemisphere at the end of September. Scores of avian species from Siberia, Central Asia, and northern Europe flock to the area. Gadwall, garganey, mallard, common merganser, northern pintail, common pochard, ferruginous pochard, red-crested pochard, white eye pochard, northern shoveller, common teal, and Eurasian Wigeon are among the winter visitors at Hokersar.

Aside from these, Hokersar is home to 68 different species of waterfowl, including giant egrets, great crested grebes, small cormorants, common shelducks, and tufted ducks. Enjoy the sounds of birds practically colliding with the water, as this location serves as a natural breeding ground for a variety of uncommon species.
How to reach Hokersar Wetlands
Board a bus or cab from Lal Chowk in Srinagar to a place called Shalteng. A 10-min-drive from Shaltang chowk will lead you to the entrance of Hokersar Wetland. From there, take a 500 m Shikara ride to go to the deeper parts of the wetland.
Best time to visit Hokersar Wetlands
October to January
Kishtwar National Park
Kishtwar National Park, which is surrounded by deep valleys and gigantic mountains, is located around 250 kilometers from Jammu in the Kishtwar region. It was founded in 1981 with the primary goal of safeguarding the endangered snow leopard, but it currently claims to be the native habitat of 15 mammalian species and 50 avian species.

The park, which is strategically placed atop a plateau above the Chenab River and below the Nagin Sheer glacier, contains everything from flora and animals to gorgeous locations, mesmerizing sceneries, and nearby streams and waterfalls.

Ibex, Markhor, Leopard, Wild Boar, Bharal, Serow, and Rhesus Macaque, Hangul, Musk deer, Goral Himalayan black and brown bear, Langur, Leopard, Himalayan jungle crow, Bearded vulture, Griffon vulture, Paradise flycatcher, Golden oriole, white-cheeked bulbul, and Mynah are some of the prominent fauna members found here.

Due to a variation in its topography, climate, and altitude, Kishtwar National Park has different types of forest vegetation. Fir, Himalayan yew, blue pine, deodar, spruce, and various alpine shrubs and herbs can all be found here. Furthermore, saffron is grown for a brief time in a small region here, providing a beautiful picture.
How to reach Kishtwar National Park:
There are buses and cab services available to an area called Ikhala (Tandoor), 35 km away from the Kishtwar district of Jammu. From Ikhala, one can either go by foot or on ponies to reach Kishtwar National Park.
Best time to visit Kishtwar National Park:
September to May.
Hirpora Wildlife Sanctuary
Hirpora Wildlife Sanctuary, located 70 kilometers south of Srinagar in the Shopian district, has a broad range of vegetation, including western mixed coniferous forests, deciduous sub-alpine scrub woods, and sub-alpine grasslands. Pine, spruce, fir, Himalayan birch, wild roses, and juniper are among the magnificent trees found here, which cover 341 square kilometers. Many endangered species, such as the Himalayan brown bear, Himalayan black bear, musk deer, leopard, Tibetan wolf, Himalayan palm civet, and Pir Panjal markhor, can be found there.

The sanctuary serves as a refuge for 130 species of birds, including the spotted forktail, western tragopan, rock bunting, rufous-breasted accentor, Himalayan woodpecker, blue rock thrush, white-capped redstart, Himalayan griffon, common stonechat and grey wagtail. The tranquil surroundings with a bright background and growing flora and wildlife make this region a treat to visit, surrounded by Gumsar Lake in the north, Saransar Lake in the south, Rupri in the east, and Pir Panjal pass in the west.
How to reach Hirpora Wildlife Sanctuary:
Arrive at Shopian district of Jammu via cars and cabs from Srinagar.
Best time to visit Hirpora Wildlife Sanctuary:
October to March
Achabal Wildlife Sanctuary
Achabal Sanctuary, in the Anantnag region of Kashmir, 60 kilometers from Srinagar, was named a Wildlife Sanctuary in 2008.

Also known as Achabal Conservation Reserve, it extends over an area of 0.50 square kilometres and is the abode of prominent wild animals like Kashmiri stag, Himalayan black bear, leopard, jackal, leopard cat, snow leopard, porcupine, hog deer, barking deer, Rhesus macaque, small Indian mongoose, Kashmiri flying squirrel and Himalayan marmot.
How to reach Achabal Wildlife Sanctuary:
Board the bus from Srinagar to Anantnag. From Anantnag, it is a half-an-hour ride to Achabal Wildlife Sanctuary.
Best time to visit Achabal Wildlife Sanctuary:
March to June