Kashmir speaks for itself. The Paradise on Earth needs no introduction, promotion, or branding to build. The heart wants what it wants is true when planning a trip to Kashmir. And so, it is most probable to miss out on the absolute delights, cultural insights, or thrill-seeking activities for the sheer excitement of being there.
Apart from the heavenly sightseeing and warmth Kashmir provides despite being a cold place, here are the top 10 reasons to visit Kashmir & nowhere else.
1. Gulmarg's Gondola/Cable Car Ride
Asia's longest & highest Cable Car in itself speaks a volume. The ropeway project, started together by J&K Govt. with a French firm, Pomagalski, offers an incredible view of picturesque Kashmir.
Gulmarg lies in the Baramulla district of Jammu & Kashmir. Apart from the plethora of adventurous activities that Gulmarg is famous for, including ice skating, camping, and snow biking, a Gondola ride is the most sought-after activity.
The ropeway comprises two phases. The first stage picks the tourists from Gulmarg to Koongdoori, lying at an elevation of 2,600 metres. At an impressive height of 4200 metres is the Apharwat peak, which is the final phase of the ride, which begs the question: How adventurous are you?
2. Kashmiri Pashmina Shawl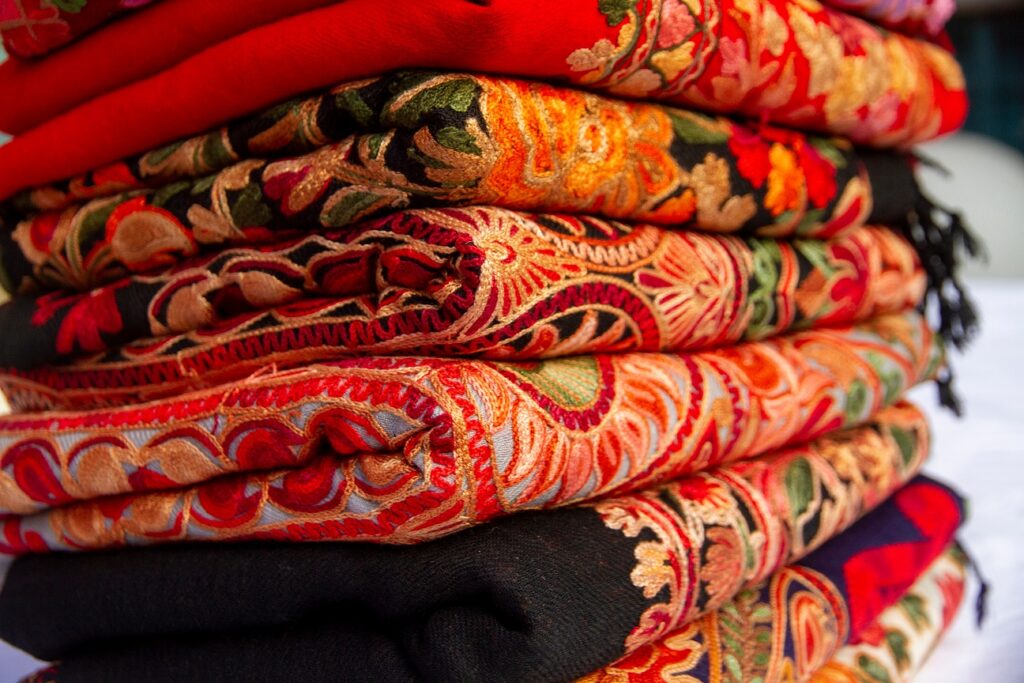 For luxury, people travel miles to have what is rare and exotic. Pashmina is one such name. The quality, texture, and handspun and handwoven design on the delicate fabric add to this soft gold one drapes loosely around their shoulder or head. Pashmina Shawls are a name to reckon with.
From the procurement of the fibre from the Changthangi Goats (Capra Hircus) – indigenous to the Valley – to the skilled craftsmanship of artisans (which can take months or even years to weave a single Pashmina Shawl), it is no wonder why authentic Pashmina is in demand.
While visiting Kashmir, add a regal charm to your attire of what was once royal upkeep. Keep an eye for the shops dealing with the hand-embroidered Pashmina and flaunt your own prized possession!
3. Shikara Ride at Dal Lak
One of the most romantic places in Srinagar is Dal Lake, surrounded by the peaks of the Pir Panjal Mountains. Lined with Mughal-era gardens & divided into four basins, namely, Bod Dal, Nagin, Gagribal, and Lokut Dal, Dal Lake is the heartthrob of the city, attracting tourists from all over the world.
When in Srinagar, the trip is incomplete without undertaking the wooden boat ride. Hop on to the colourful Shikaras awaiting your arrival. Get a glimpse of floating gardens, markets, and restaurants and feel awe with the vintage-styled houseboats moored along the lake's western edge.
4. Golf Course as Golfing Destinations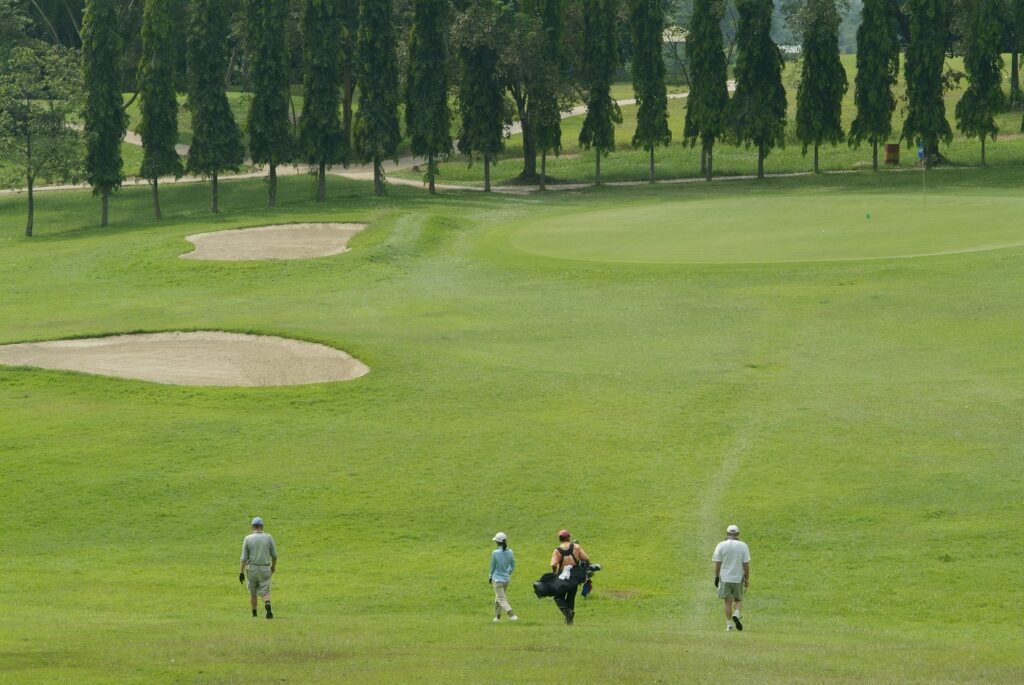 It's never too late to take up a new activity, no matter how far or foreign. In this social-distancing World, if there is any sport to go for, it is Golfing. Amidst natural greenery, learn to hit the ball in Paradise. Enjoy the game in the vast open space, for Kashmir has many. The Valley has a spellbound effect on its visitors, whether it is Lidder Valley Golf Course in Pahalgam or the World's highest Golf Course in Gulmarg.
Reopened after renovation in 2011, Pahalgam's Golf Course is a 3 hr drive from Srinagar. It has an 18-hole layout enticing players to visit the arena. On the other hand, Gulmarg's golf course is more than a hundred years old. Established in 1911, what started with a 6-hole golf course is now an 18-hole golf course boasting the largest & highest attraction point for golfers around the year.
5. Tulip Garden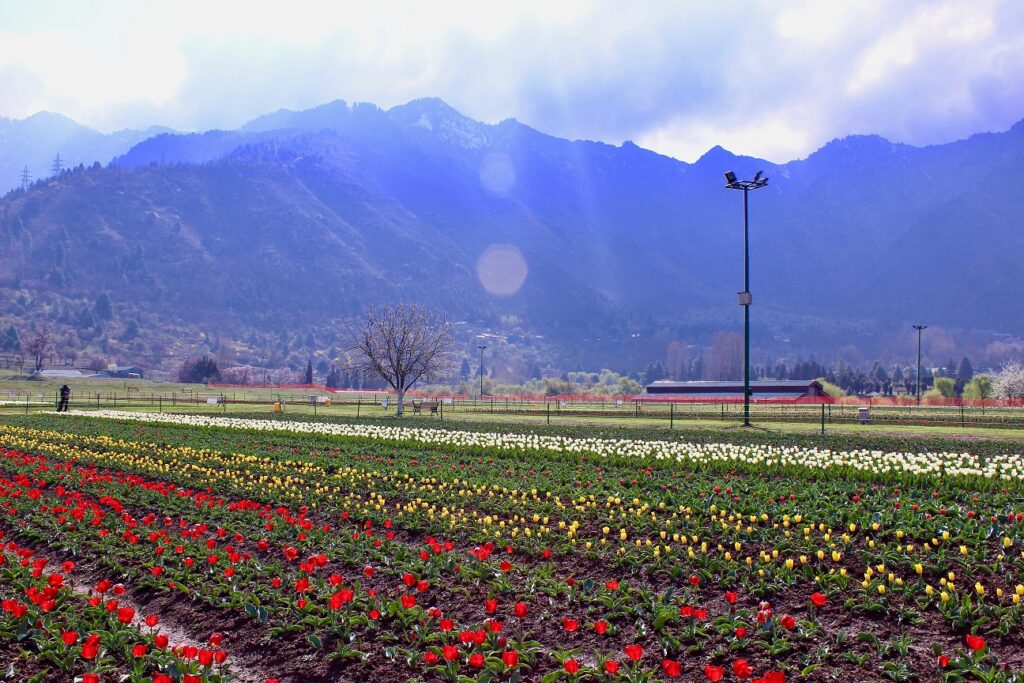 Imagine yourself surrounded by millions of Tulips in their full bloom. And where else than in Kashmir, home to Asia's largest Tulip Garden in Srinagar. The bloom of Tulips is limited to a certain month. However, it doesn't limit the visitors advancing here to attend the marvellous festivals organised annually to mark the arrival of Spring.
A picture-perfect sight, Indira Gandhi Memorial Tulip Garden is situated on the foothills of the Zabarwan Range, overlooking Dal Lake. Stretched over an area of 30 hectares, Tulips bloom here with a few other varieties of flowers such as daffodils, ranunculus, and hyacinths in a terraced style. Since the lifespan of Tulips is short, the one-month-long attraction is as rare as the beauty of Kashmir.
6. Houseboats Stay
When it comes to Accommodation, nothing beats the luxury of Kashmir's Houseboats. This is where comfort meets the culture. Kashmir dreamy houseboats, one of the reasons to visit Kashmir, offer a comfy stay full of facilities like any 5-star hotel, from deluxe rooms to luxury suite rooms.
A Shikara ride complements the houseboats made of cedar woods. The furniture's elaborate carvings are done on walnut woods. Expect all kinds of amenities here on Kashmiri Gondolas, such as Wi-fi, sumptuous cuisines, and even airport transfer facilities. These floating boats are just a slice of Heaven's abode and your home for as long as you are here.
7. Hot Air Ballooning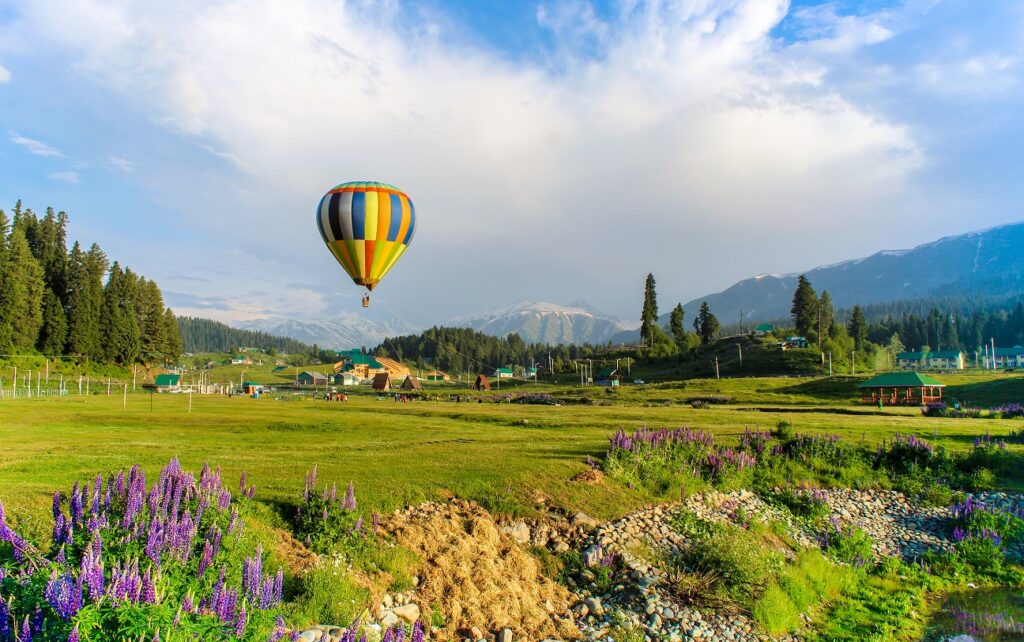 Soar high into the sky as you ride the hot air balloon in Kashmir. As soothing as it is to take ample walks down the Valleys, capture the spectacular view from the top. Recently, Srinagar geared up with this fun-filled activity which is now a major attraction point inviting tourists from all across the States.
As cliche as it sounds, the hot air balloon is a must-try activity and one that is not to be missed. The ride accommodates four people at a time and offers a panoramic view of the Zabarwan Park, where it is based. After all, why miss the experience of a lifetime when in Kashmir?
8. Kashmiri Cuisine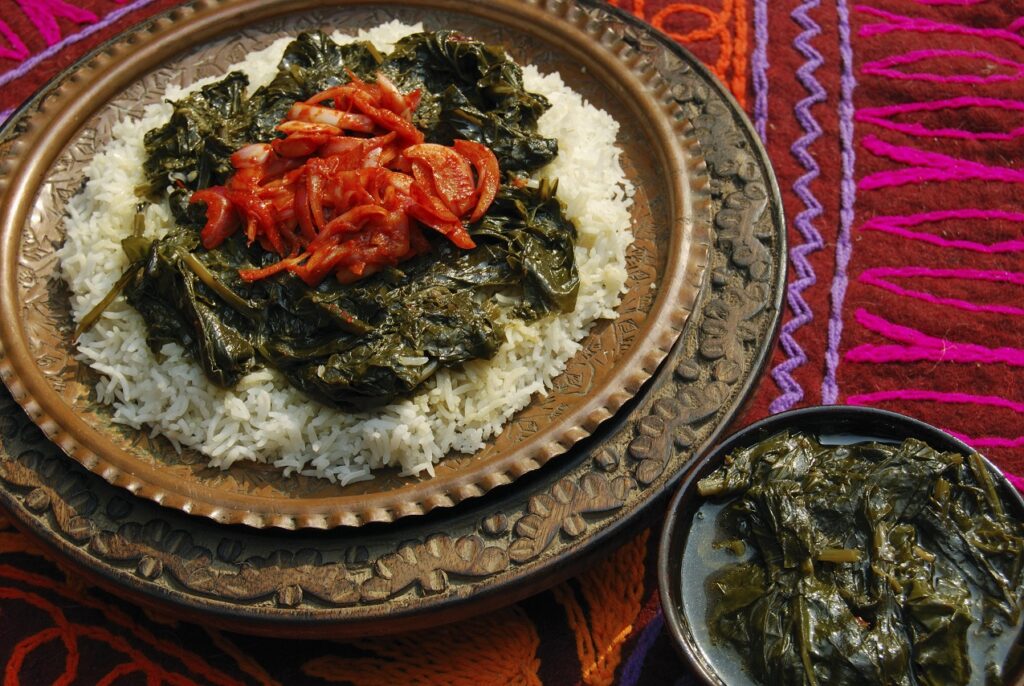 Flavoured, scrumptious, wholesome! These can be best described for the delectable Kashmiri foods, including Wazwan, Dum Aloo, Rogan Josh, and Kahwa(beverage), among others that no Kashmiri can live without. And we bet you too once you are out exploring the traditional as well as street foods of Paradise.
Whether to take a sip, dip or savour Kashmir's specialities, one ought to come back often or take back the recipe of the luscious dishes cooked here. Satiate your taste buds with heaven's food. Mark your favourite dish and share what you think of Kashmiri foods.
9. Pony Ride Excursions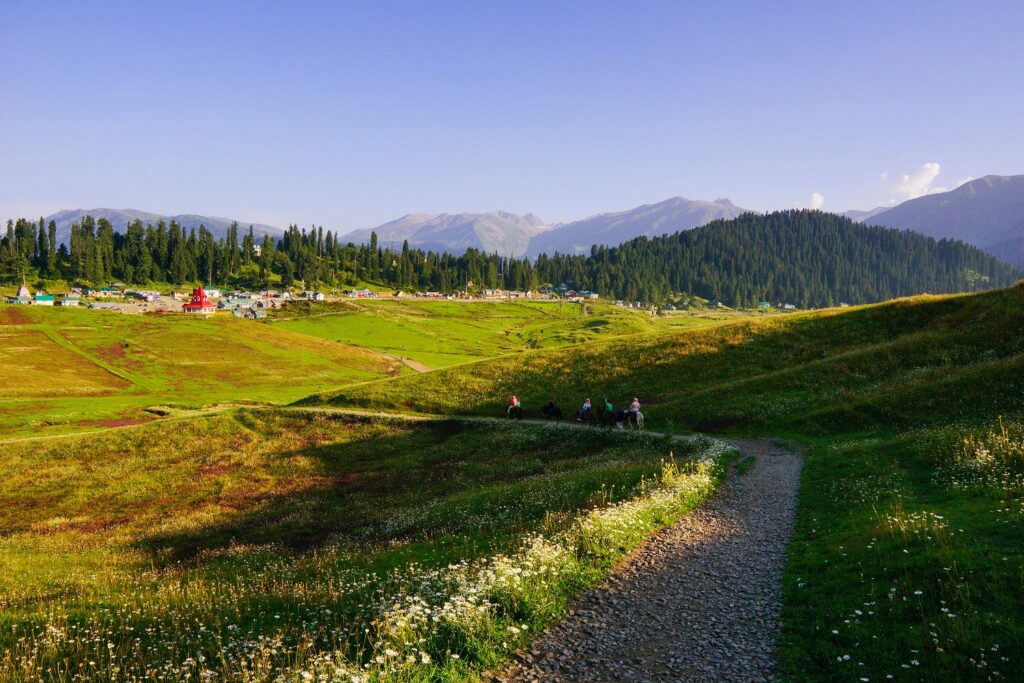 Get acquainted with the natural lifestyle of Kashmir by taking a pony ride. The transporting life of Kashmir is the most assured way to slow down your travel and take into account the surreal beauty Kashmir is bestowed with. When the going gets tough, it is advisable to hire ponies or horse facilities to trek the tough terrain of Pahalgam, Yousmarg, Sonamarg, Gulmarg, etc.
Mostly, pony rides are hired when travelling to religious sites or undertaking pilgrimages such as Amarnath or Vaishno Devi Yatra. The terrain, which is not accessible by any motor vehicles or where it has a steep inclination while trekking, is where ponies' adventure awaits to ease the trip.
10. Exclusive Adventure Activities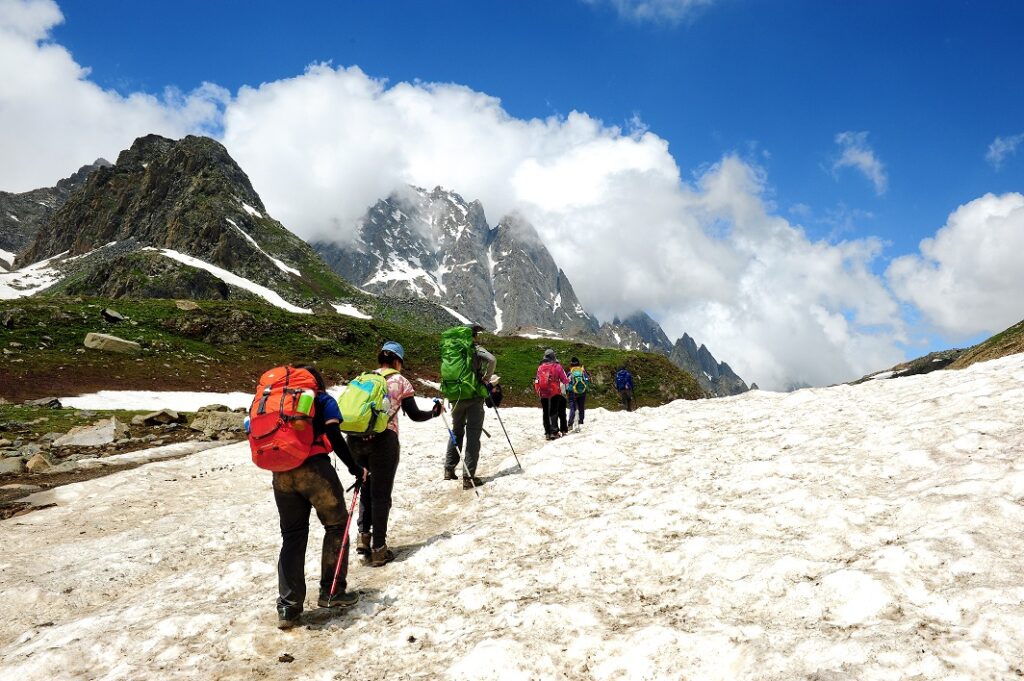 Angling, Rafting, Trekking, not to forget, Skiing, Snowboarding, Heli-skiing, Snowshoeing and more; Kashmir is abundant with numerous adventurous activities and grants its visitors the same. Wherever you will go, adventure awaits at every doorstep. From Paragliding, Mountain Biking, Camping or Mountain Climbing, let the daredevil inside you explore freely the infinite possibilities you are born with. Expect no less from Paradise as it is a hub of all the sports one can only find here apart from sightseeing. Are you confused as to where to begin? We suggest you start with Gulmarg!
A travel lover and moody chef, Surbhi loves to read & write and doodle in her free time. For her, being able to write is a blessing, and to keep at it—a work-in-progress. When not working, you can find her swimming her worries away, dancing to the beats, or filling up her bucket list to tick them off.