A holiday feels incomplete without bringing back memories in the form of tangible objects indigenous to the place one has visited. These delightful picks could be anything from décor items such as vases and paintings to adornments like trinkets and rings or as simple as a postcard, magnet keychain, etc. Big or small, they are a constant reminder of pleasant memories and good times spent on a vacation. Let's help find the best things to buy in Kashmir
And when it is Kashmir, more so the reason to add to this shopping spree. The Valley is not only abundant with natural beauty but also the artistic handicrafts, exotic spices, dry fruits, carved wooden objects, ethnic wear and more. Basically, everything here speaks of Kashmir's grandeur and rich heritage, so much so that it becomes mandatory to bring back items in the form of gifts and souvenirs.
While some of them are known to most and famous worldwide such as Pashmina Shawl, there are other Kashmir notable things to buy. Here is a list of Kashmir's must-buy picks or the best things to buy in Kashmir you can't afford to miss.
Shahtoosh Shawls
From the gifted artisans of Kashmir, we present to you Shawl other than Pashmina – since that goes without saying – to add to your list. The word Shahtoosh is a Persian term meaning 'King of the Wool'. The fibre of this Shawl comes from the wild antelopes, called Chirus, and is exceptionally lightweight, soft and warm.
Kashmiri Kettle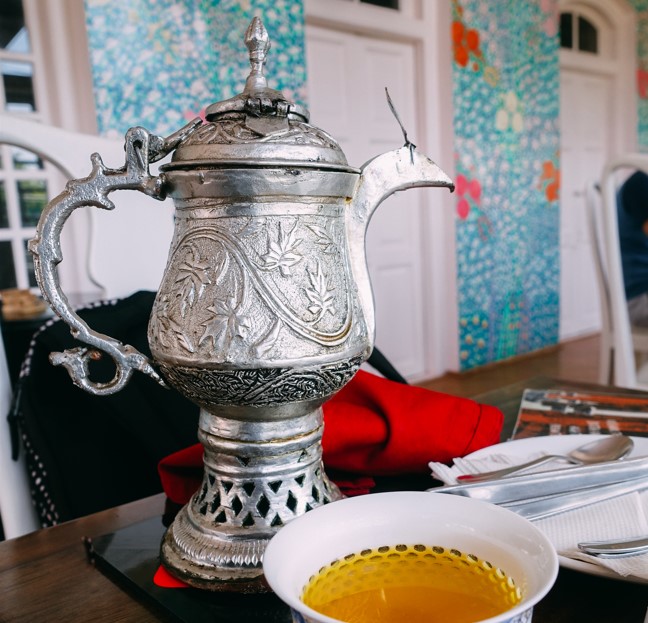 Give your home an antique Kashmiri touch. A Kashmiri origin 'Samovar', handmade by skilled craftsmen of Kashmir, is what you need to relive the fresh memory. Used to brew, boil and serve Kashmiri Kahwa (fragrant green tea), wake up to its heavenly scent and enjoy the sip of this authentic tea to your liking every day.
Noon Chai Bag
What's better than a Kashmiri kettle (Samovar) is brewing the traditional tea beverage in it, i.e., Noon Chai. Buy a handful of tea bags with you on your way back and brew this exquisite pink tea that is loved by one and all. In the Valley, this famous tea goes by other names such as Sheer Chai, Gulabi Chai, Kashmir tea, etc.
Kashmiri Spices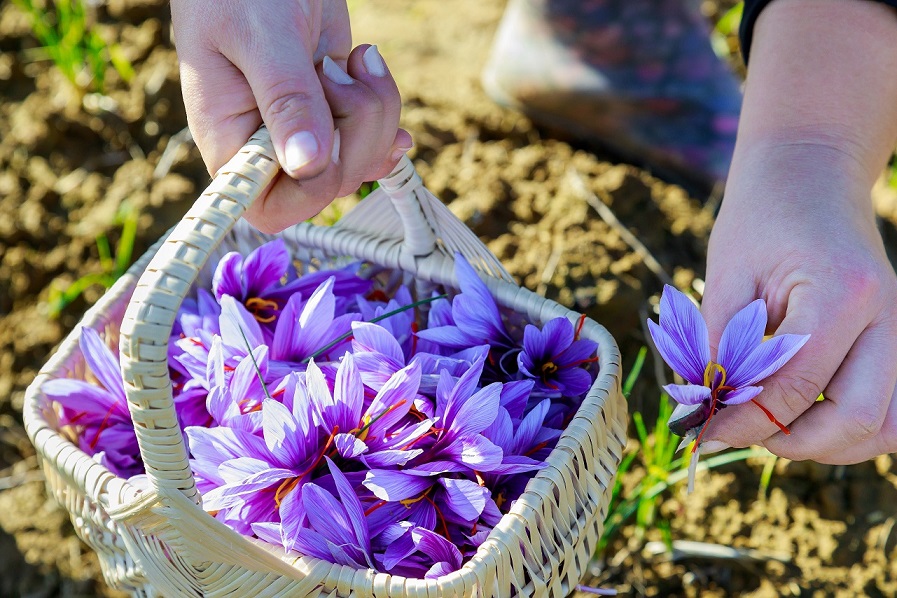 What is dark red, flavoured and comes with long strands? Yes, the world famous and most expensive spice – Saffron (Kesar). And this most loved spice's finest quality – Mogra Cream – is only found in Kashmir. This labour-induced spice is not easy to cultivate as an acre of land produces only 5 to 7 pounds of saffron. To buy some for your trip back home, head to Maharaja Bazaar and Kokar Bazaar in Srinagar.
Carpets & Rugs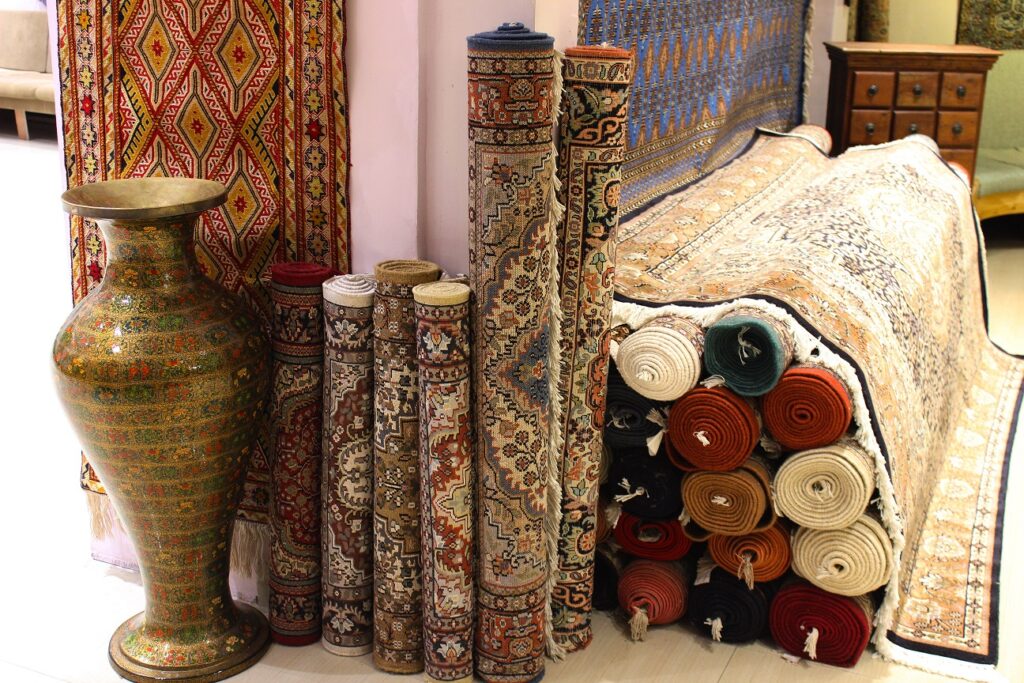 Aesthetically beautiful and handcrafted to minute details, Kashmiri carpets & rugs offer quality, value and durability. What's important to note before buying them is whether you are buying single knotted or double knotted carpets. Depending on the size and knots, the prices vary. Hand knotted carpets are locally known as 'Kal Baffi'.
Walnut Wood Carvings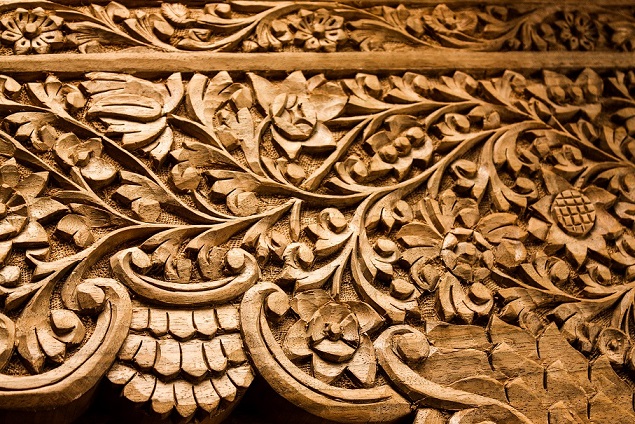 Interior home decor is a thing. And who doesn't like to keep it artsy, tidy and aesthetically pleasing to look at? Well then, buy this elaborative art piece, carved and beautified on Walnut wood and let the Kashmiri woodwork define your homely space. To buy these beautifully designed motifs on furniture, tables, bowls and wooden keychain, consider going to Lal Chowk and Badshah Chowk.
Doda Sapphire- One of the Best Things to Buy in Kashmir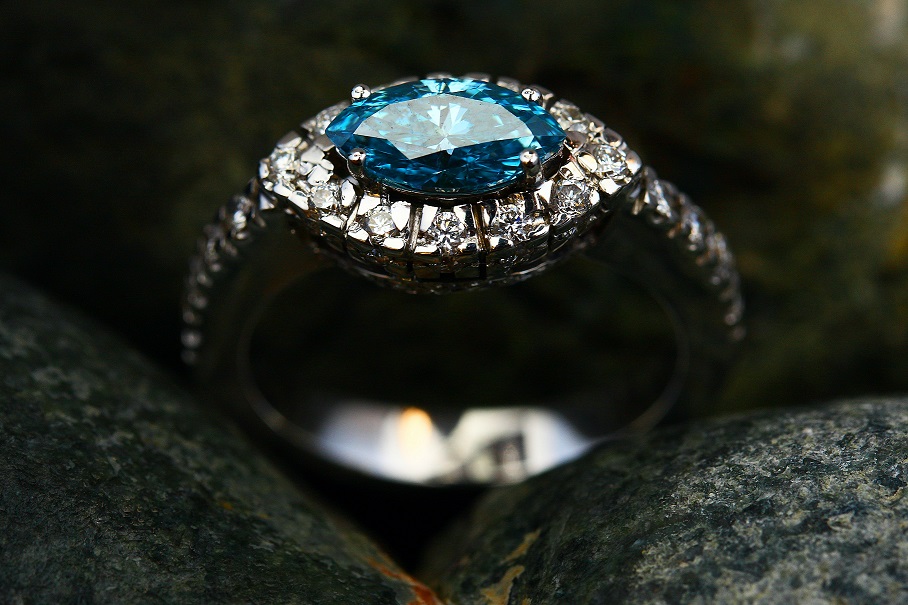 In a mood to splurge more? Know just where to invest, and you will feel wholesome. Of course, it is jewellery but not just any! This exquisite piece of jewellery comes with an engraved Doda Sapphire, a rare gem unique to Kashmir. Locally, it is known as Kashmiri Neelam. Kashmir Sapphires are unique, offer the best quality and are deep bluish. The precious stone will become your absolute favourite in no time.
Papier-mâché Products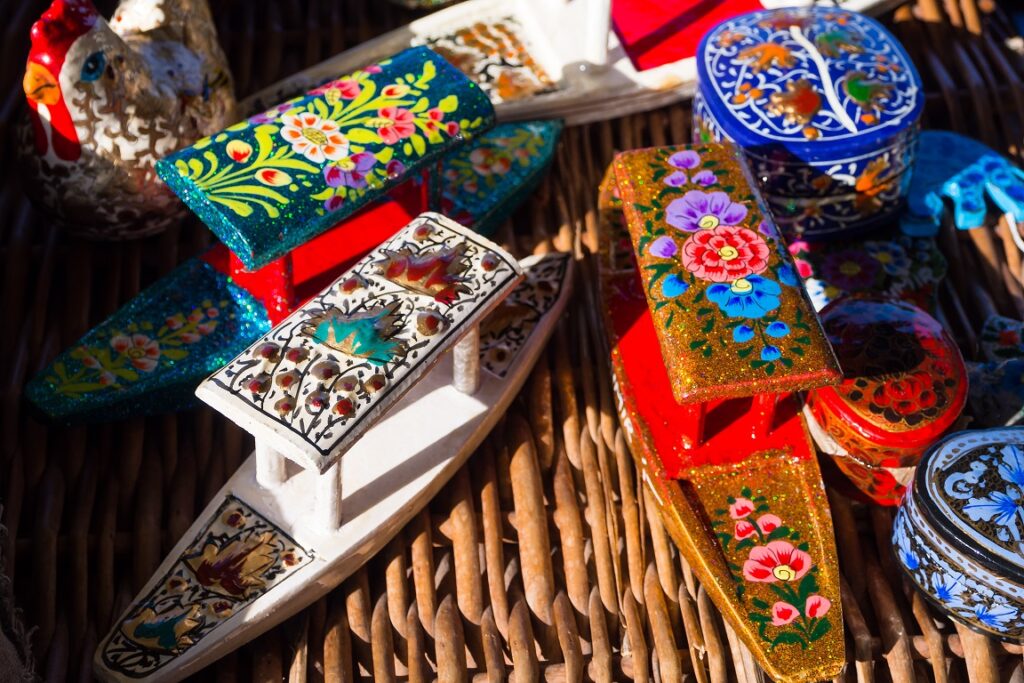 An absolute must-have to give to your friends, family or relatives, Papier-mâché makes for the best Kashmir gift items. Shopping in Kashmir is an uplifting experience, thanks to this colourfully, vibrant Kashmiri art, i.e., Papier-mâché. These showpieces come floral printed, hand-painted, brilliantly designed and crafted in different paint and sizes.
Author is a student who loves to explore new corners of learning. He likes writing and travelling while taking challenges that question his abilities and skills. His hobbies are helping people and spending time in nature.