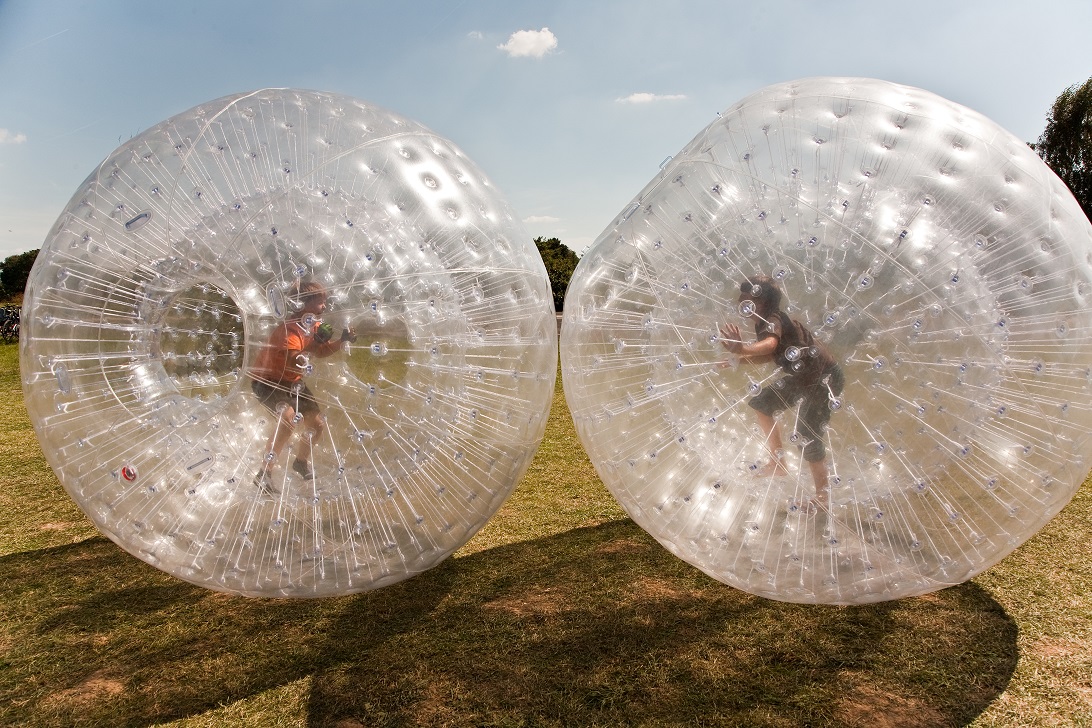 Kashmir offers a wide range of activities to be enjoyed by people with different hobbies and inclinations. There is something for everyone in Paradise on Earth. In the Vale, unforgettable experiences await all visitors. From discovering the Mughal Gardens and Houseboats of Srinagar to touring the historical forts and temples, trekking across the Himalayan and Pir Panjal Ranges, and enjoying adventure sports like Skiing and Paragliding. Serenity, Surprise and Solace surround the Valley. Whether you're seeking adventure, peace, or a combination of both, Kashmir is the answer to all the amazing things you wish to tick off your bucket list. Following are the things to do in Kashmir for a memorable trip:
1. Explore the Floating Market on a Shikara Ride
A leisurely Shikara Ride on Dal Lake is an engaging activity. While enjoying the boat ride, get your hands on locally-made products and trinkets there. Buy local handicrafts and drink Kashmiri Kahwa while visiting the floating market of Dal Lake. Besides, you can also watch the sunset behind the Himalayas and the garden floating on the lake to admire their beauty.
2. Stay at Houseboats
After a tranquil Shikara ride, visitors can relax and unwind on the deck of a houseboat. Traditional floating homes known as houseboats are moored on the serene Dal Lake in Srinagar. With all of today's conveniences, these houseboats provide a comfortable and opulent stay amidst the tranquil splendour of the Himalayas.
3. Ride Asia's Highest Gondola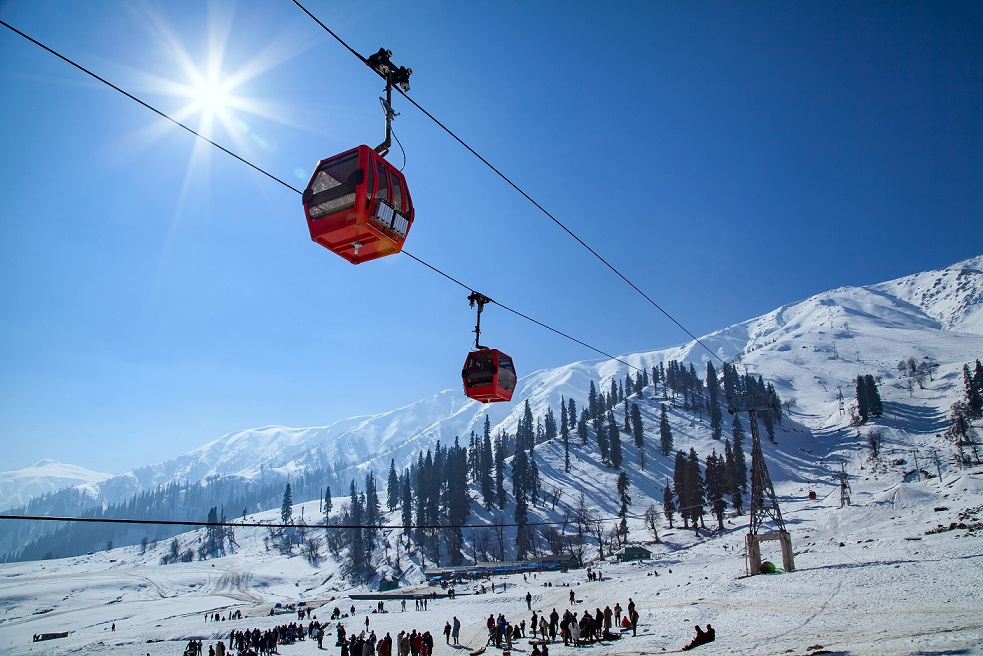 The Gulmarg Gondola ride comprises two phases, the first of which takes tourists to Kongdoori Mountain and the second to Apharwat Peak. You can enjoy the breathtaking scenery, take a stroll, or engage in adventure sports like skiing or snowboarding while on the ride. The slopes at Apharwat mountain are specifically designed for advanced and expert skiers to descend, where the excitement of skiing first begins.
4. Dine at Snowglu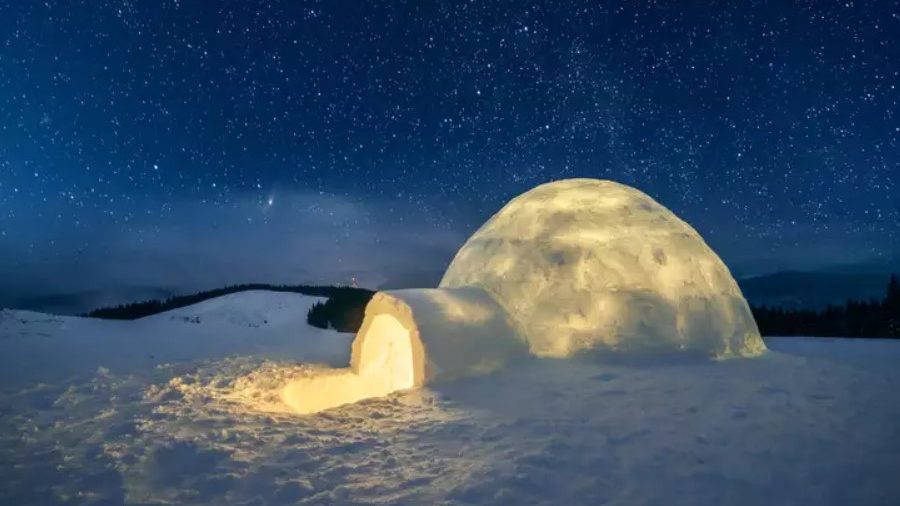 The winter-themed Snowglu Cafe Igloo provides diners with an exceptional eating experience in an igloo built of ice and snow. Snowglu in Gulmarg is the ideal spot if you're searching for a romantic dining experience or want to enjoy a tasty dinner amidst the breathtaking landscape. The restaurant is well-liked by both tourists and residents since it provides stunning views of the valleys and mountains in the area.
5. Picnicking at Mughal Gardens
Mughal Gardens are a sight to behold in Kashmir. Their fascinating flower beds and Charbagh style offer insights into the time of royals. Here, families can indulge in various water-based activities, such as boating and fishing, and savour the mouthwatering regional food while taking in the breathtaking scenery and enjoying the beautiful and fragrant surroundings.
6. Tour the Historical Sites
A heritage walk offers the chance to experience the area's rich natural and cultural legacy fully. In Srinagar, go on a heritage tour to explore the sites such as Kathi Drawaza, Hari Parbat, Pari Mahal, Jamia Masjid and centuries-old nooks and corners of the capital city. A stroll through the narrow streets of historic Srinagar will allow you to explore the local market and buy authentic spices, dry fruits, and traditional fabrics.
7. Visit the famous Tulip Garden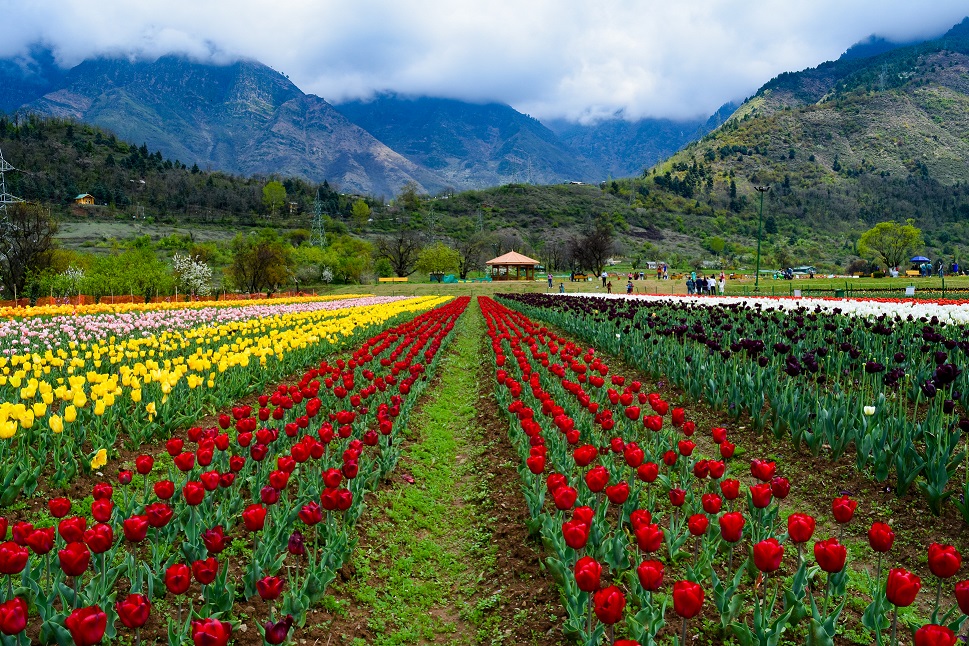 The Tulip Garden in Srinagar is a must-visit destination for all nature lovers and flower enthusiasts. The garden is home to over 70 distinct tulip varieties. The blooms range in colour from delicate pastels to vivid hues and are so beautiful that visitors can meander through the garden and take in their splendour. The park is the ideal place to unwind and take in Kashmir's splendour because it provides panoramic views of the mountains in the area.
8. River Rafting in Pahalgam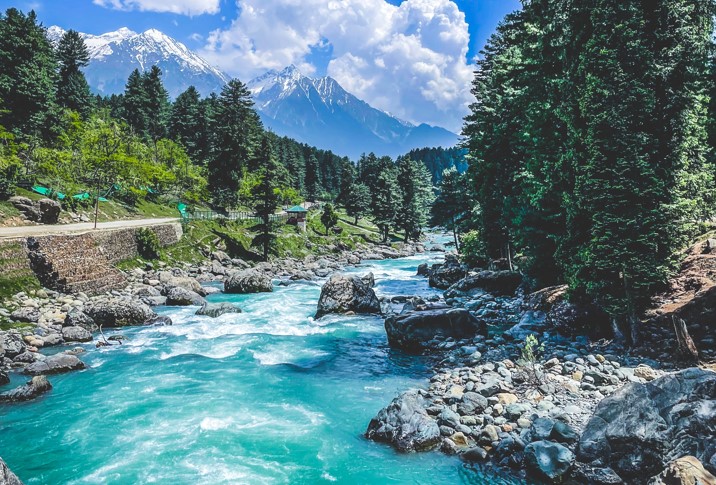 River rafting is a daring water activity in Pahalgam along the lovely Lidder River. For rafting enthusiasts, the grade III and IV rapids make for an exhilarating experience. River rafting in Pahalgam is a must-try sport for anyone looking for an adrenaline rush amidst the beauty of nature, with knowledgeable guides and top-notch safety gear.
9. Paragliding at Astanmarg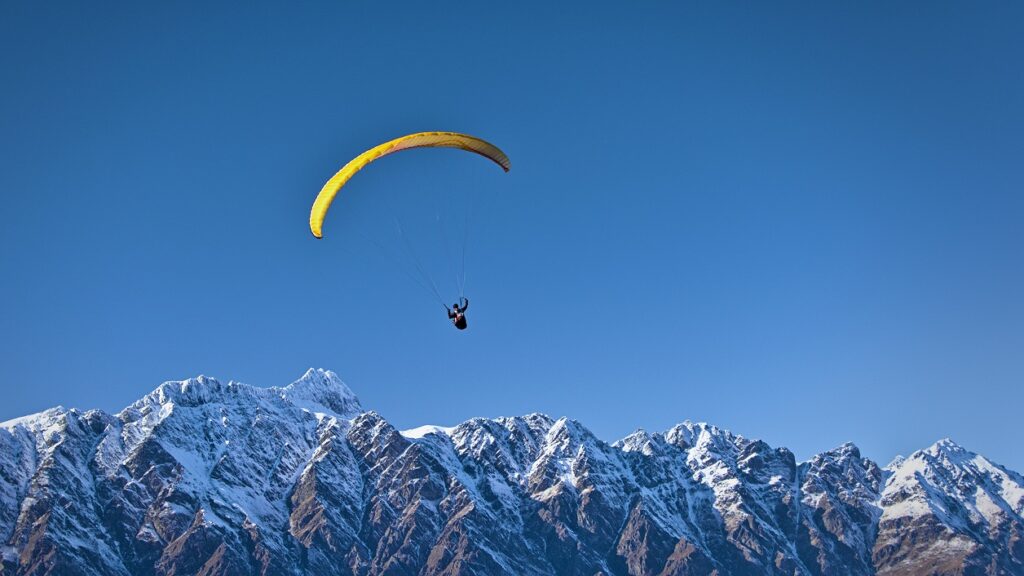 At Astanmarg, take a singular view of the area's natural splendour while flying high in the sky. The experienced pilots ensure a safe and thrilling flight, making it an unforgettable experience for all levels of paragliding enthusiasts. For those looking for an adventure in the skies, paragliding at Astanmarg is a must-try activity because it offers the ideal balance of excitement, scenic beauty, and an adrenaline rush.
10. Trekking Kashmir Great Lakes in Sonamarg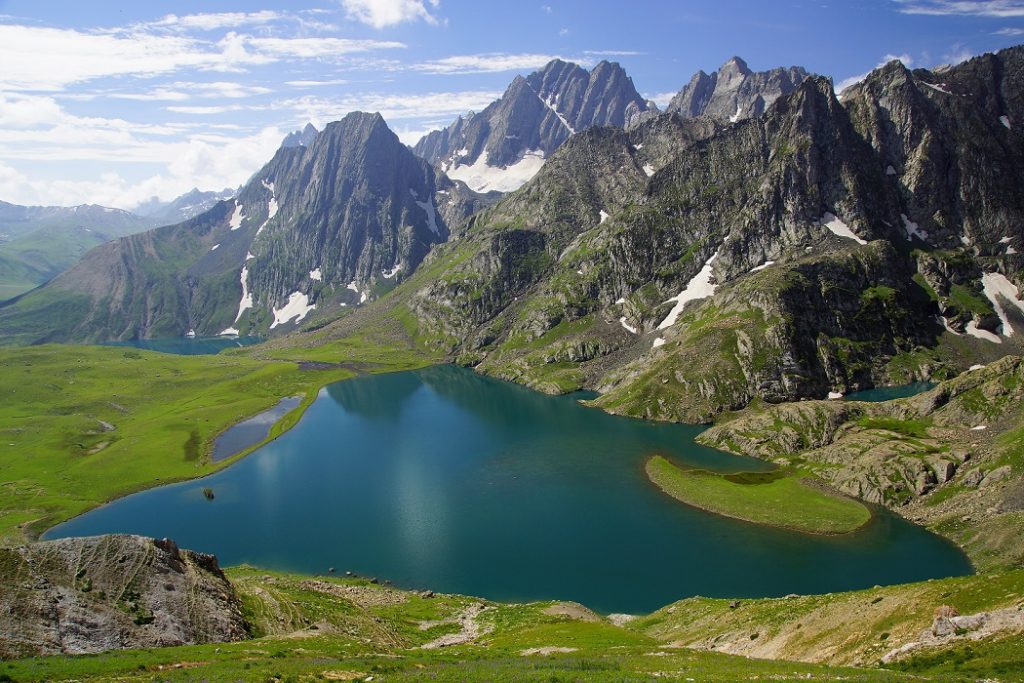 The walk allows you to take in breathtaking views of the surrounding peaks and valleys as it leads you through verdant meadows, deep forests, and high mountain passes. The seven alpine lakes, each more beautiful than the last, are the trek's high point. The Kashmir Great Lakes trip is a must-do for any adventurer visiting Sonamarg because it offers challenging but achievable paths, unique and breathtaking vistas, and several opportunities to get in touch with nature.
11. Skiing & Snowboarding at Apharwat Peak
Some of India's best ski and snowboard slopes are on the Apharwat Peak, located in the picturesque Gulmarg Valley. Because of the mountain's well-groomed slopes and superb snow conditions, skiers and snowboarders of all abilities may enjoy the exhilaration of gliding down it. Skiing and Snowboarding at Apharwat Peak are a must-try with the correct equipment and expert training for anyone looking for an adrenaline-fueled adventure in the heart of the Himalayas.
12. Hot Air Ballooning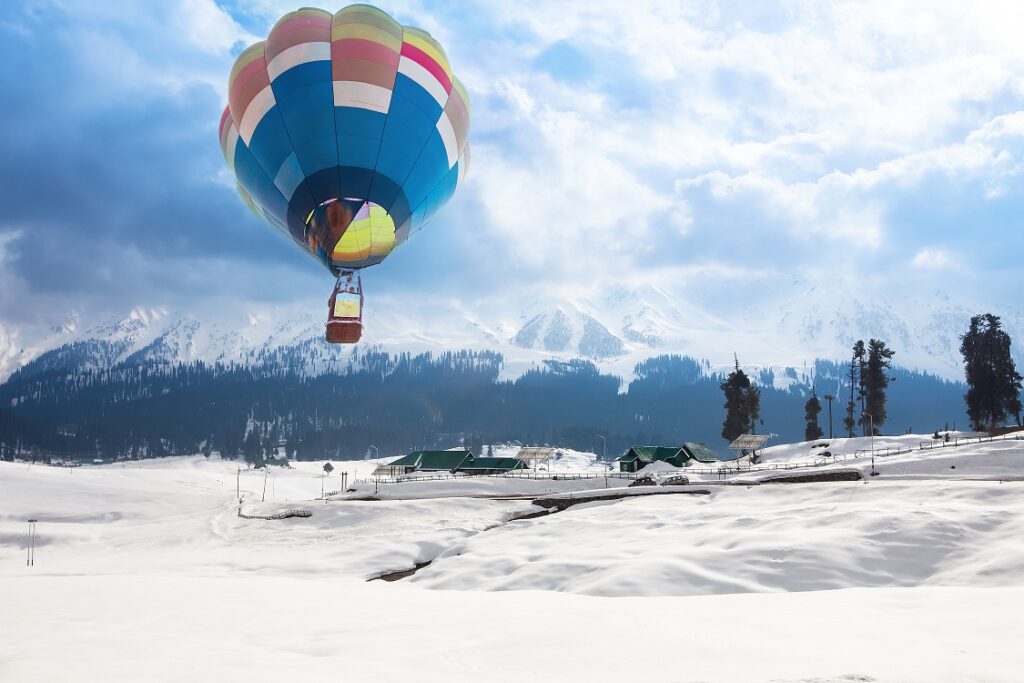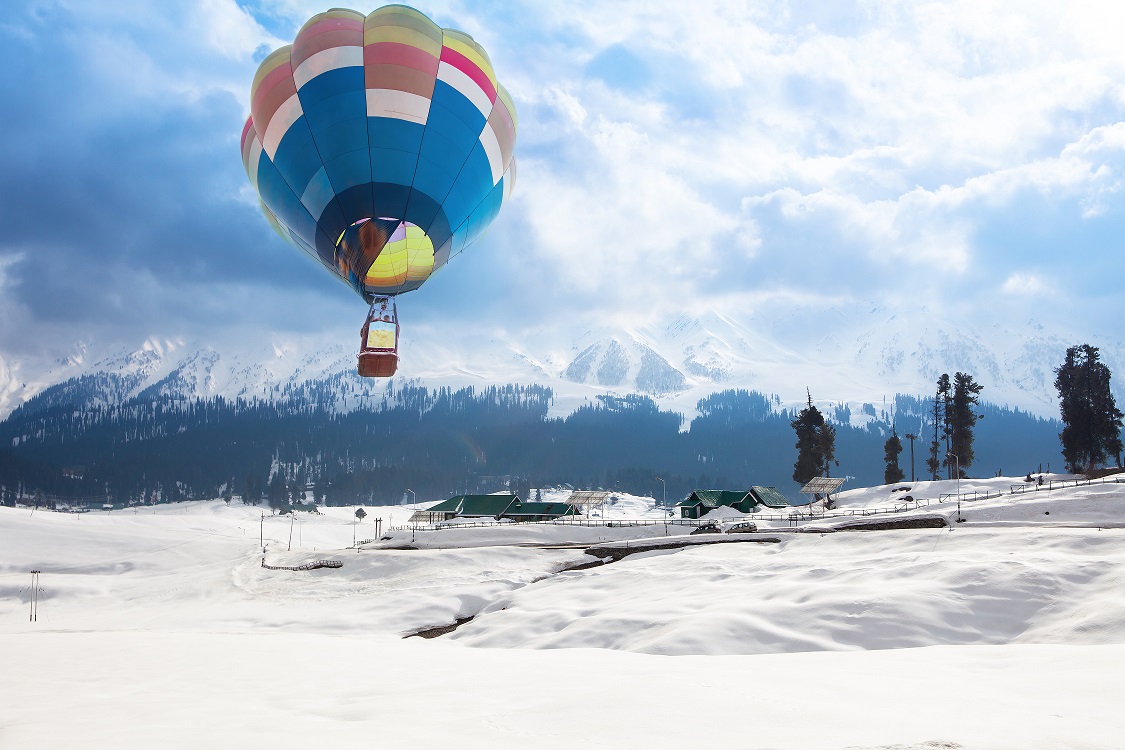 Because it combines adventure, panoramic beauty, and tranquillity, hot air ballooning in Kashmir is a must-try activity for anyone looking for a truly unforgettable experience in the middle of nature. Hot air balloon rides are frequently taken in Jammu's Suru and Zanskar valleys. The trip lasts around two hours and ascends to a height of roughly 3,000 feet.
13. Golfing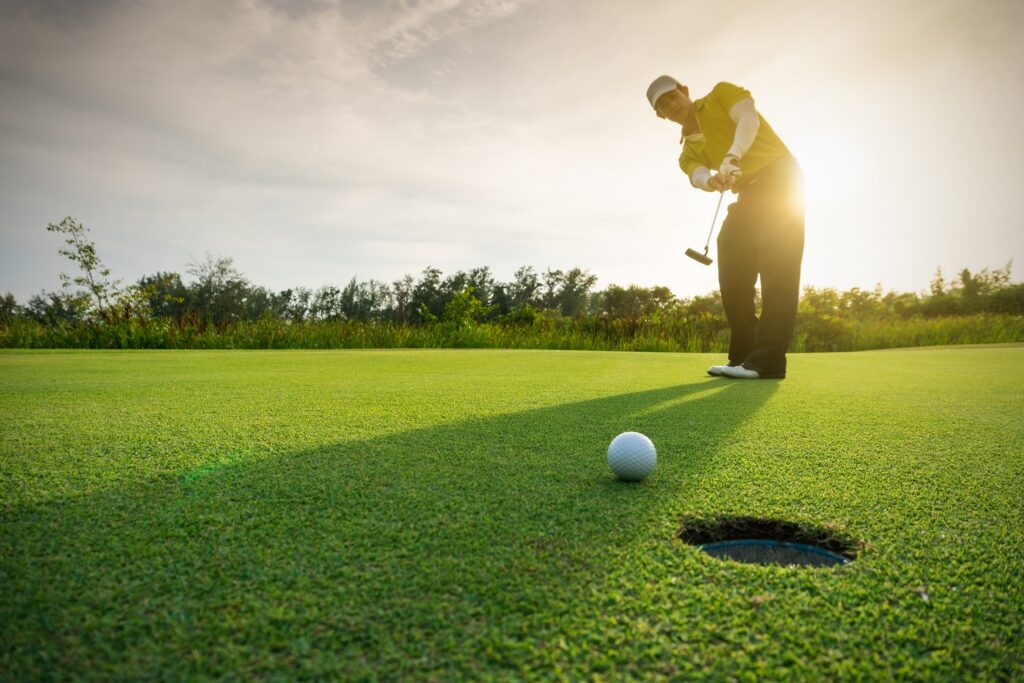 Golfing in Kashmir is an excellent way to enjoy the region's natural beauty while also putting one's skills to the test. It's a must-do activity for anyone looking for adventure and relaxation in the middle of nature, whether playing a leisurely round or attempting to beat one's personal best. Golfing is an ideal activity for players to try their swinging skills in Kashmir's cool and temperate climate, making Kashmir a popular destination.
14. Camping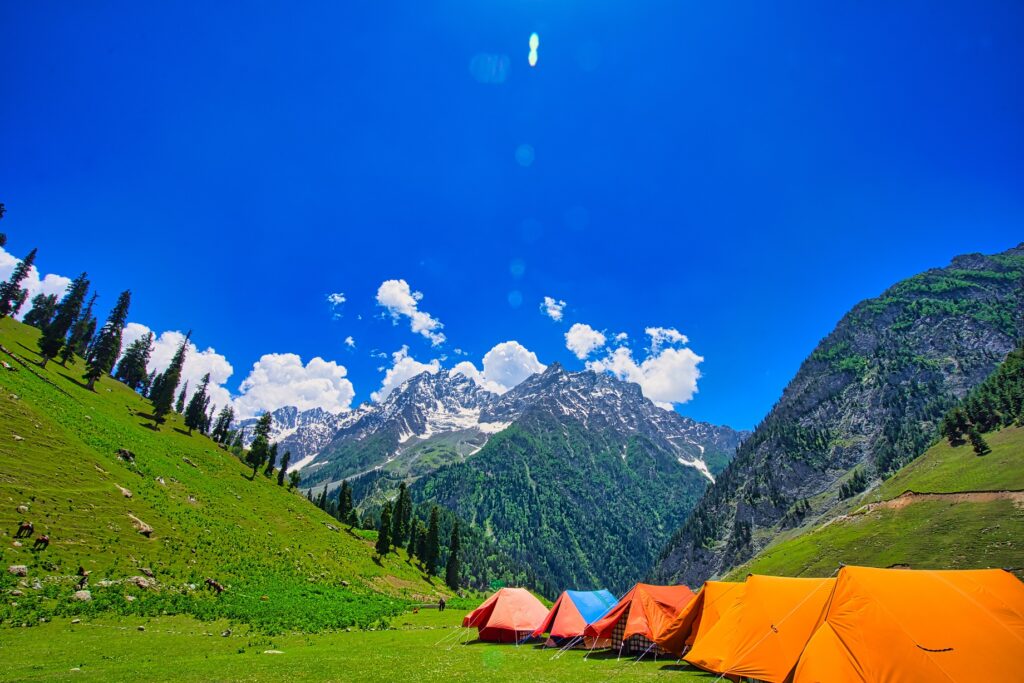 A Kashmir trip calls for pitching the tent amidst the heavenly surroundings. And Camping is the ideal activity to try in the Valley. With vistas of snow-capped peaks, lush green valleys, and tumbling waterfalls, the area around the river is scenically beautiful, which enhances the overall experience. Camping in Kashmir offers a chance to connect with nature and make memories that will last a lifetime, whether you camp in a tent, build a bonfire, or unwind in the great outdoors. The area's breathtaking scenery and serene mood make it an excellent destination for camping enthusiasts of all levels, whether you've camped before or this is your first time.
15. Offer prayers at religious sites
Kashmir is home to numerous revered shrines and temples, each with its history and significance. Whether it's the ancient Hindu temple of Martand Sun Temple, the iconic Shankaracharya Temple, or the holy shrine of Hazratbal Shrine, visiting these religious sites is a must for anyone interested in learning more about Kashmir's rich cultural heritage. These locations' serene and peaceful atmosphere is ideal for prayer, reflection, and connecting with one's faith.
Author is a student who loves to explore new corners of learning. He likes writing and travelling while taking challenges that question his abilities and skills. His hobbies are helping people and spending time in nature.