Are you prepared to feel the rush: both adrenaline and the rapids of the river? In the Vale of Kashmir, adventure seeks those who arrive here looking to wash away their worries. The unknown, the remote natural setting and the rough terrain will all lead you to the mighty rivers prepping you to brave their waves.
Naturally, Paradise on Earth is a popular place not just for river rafting but also for offering white-water rafting escapades. The stretches of River Lidder, Sindh and Indus are where you can awaken the rafter in you when in Kashmir. Navigate through the river wilderness and experience the thrills and chills of rafting the rapids and surviving the uncertainty of life.
The gushing water running wildly at these places offers baby waves to bold rapids. And so, amateur or not, this adventure sport – surrounded by immense natural raw beauty – is for everyone. Listed are the best places for river rafting experience in Kashmir.
Pahalgam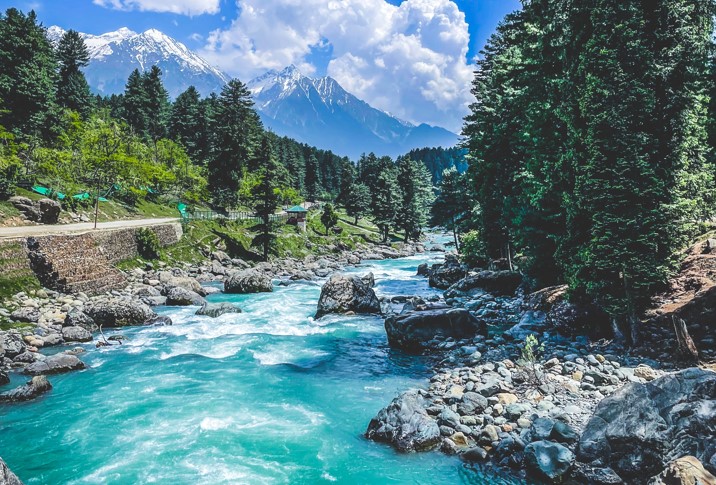 Pahalgam, the Valley of shepherds, is the most happening and fun-filled place to be, thanks to the River Lidder. Wherever you go in Pahalgam, you will find the river following you, charming you with its friendly vibes. The spot is a sure-fire hit among the adventure enthusiasts who came here to camp, fish and indulge in the most extreme sport- white river rafting over the Lidder River.
The stretch running from Langabal to Ganeshpora is about 12 kilometres long and ranges from Grade I to IV in difficulty. It is further divided into three rides to ease the difficulty so that enthusiasts, from beginners to experts, can participate in this sport. Thus, Lidder Joy Ride (2.5 km, Range up to III) and Lidder Long Ride (5 km, Range up to III) are both for beginners, whereas Lidder Extra Long Ride (12 km, Range IV) is for people with advanced skills.
Sonamarg
Sonamarg, the Meadow of Gold, is where trekkers arrive to scale the glacial lakes and jewels hiding in this emerald Valley. The most fascinating ones are Thajiwas Glacial and the Kashmir Great Lakes Trek. However, apart from being a trekker's paradise, one can also try rafting on the Sindh river. Unlike the Lidder river, the notorious water of Sindh won't let you tame its waves that easily.
However, it does offer three similar rides like the River Lidder, with Grades ranging from I to IV. The first two Sindh Joy Ride (3.5 km, Range up to II) and Sindh Long Ride (7 km, Range up to III) are limited to beginners, while the Sindh Extra Long Ride (24 km, Range up to IV) entices daredevils.
Kargil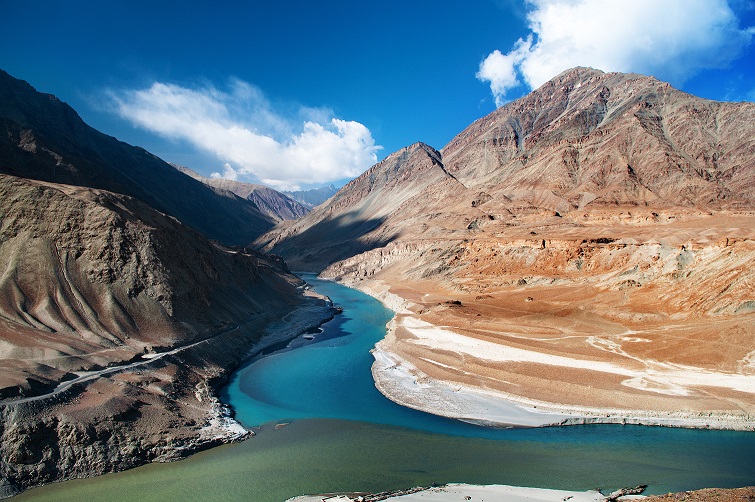 Surreal landscapes, wild terrain, alpine hills, steep gorges and through it runs the Zanskar river, a major tributary of the Indus River. Besides scenic views and Buddhist monasteries you will encounter while visiting Ladakh, one of the unmissable activities is going river rafting here in the Zanskar gorge. This physically demanding adventure of white water rafting offers an indescribable sight, powerful current and rough terrain to manoeuvre the raft safely.
While there are several rapids along this ride, perhaps one of the most popular – and thrilling – sections is that of Phey to Nimo, followed by Upshi to Nimo. Some people may also go on through Upshi to Kharu. This route provides rafting enthusiasts with a true challenge and allows them to experience the incomparable beauty of this incredible region for themselves!