Where there is a will, there is a way! And where there is an end to a road, there is a will to trek. One may wonder, what prompted people to scale alpine hills, the highest mountains, to venture deep into oblivion and most importantly: how did they do it? Trekking is the answer to all the inaccessible locations that one keeps getting into to satiate the curious soul.
Trekking is an old practice where people would walk for miles during the day and look up at the stars at night to determine their whereabouts and recognize their landscapes. In the recent past, trekking has emerged as a popular adventurous activity. Almost everyone you may come across must have tried trekking at least once in their life.
And the good thing is that it doesn't end with just one. In fact, it evokes the strongest urge to trek to the top. Varying in duration and days to cover a certain distance, Ladakh lives up to trekkers' expectations, from amateur to advanced. You can start a marked trail or set off on a journey on your own. A trekking expedition in Ladakh is famous for offering rugged terrain of all kinds. And so anyone interested in trekking can begin their journey starting from these places.
Beginner Treks in Ladakh
Sham Valley Trek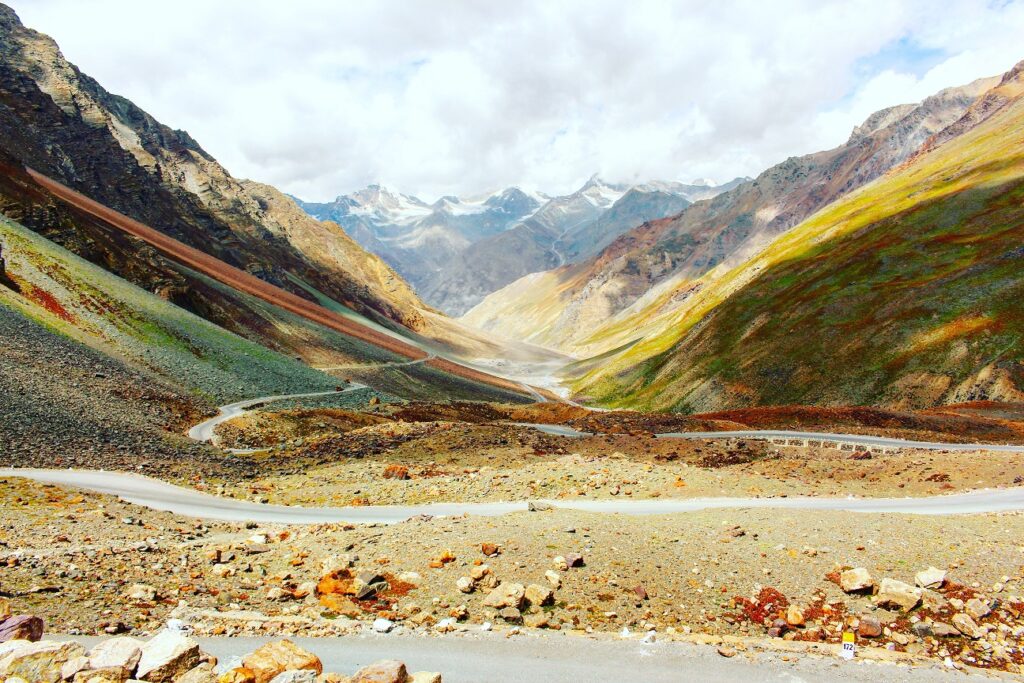 Get ready to be introduced to Ladakh's spectacular landscape. During winter, Apricot Flowers bloom and surround the Valley. The Apricot Valley is a painter's canvas for its beautiful & contrasting landscape. To trek here, you have to first arrive at Likir, at a distance of 54 km from Leh. While trailing this baby trek, you will come across mountain passes, streams, monasteries, barley & apricot fields, and remotest villages offering a pleasant homestay.
Route: Likir – Yangthang – Hemis Shukapachen – Ang – Temisgam – Nurla
Altitude: 3750 m
Best time to visit: June to October
Spituk to Matho Trek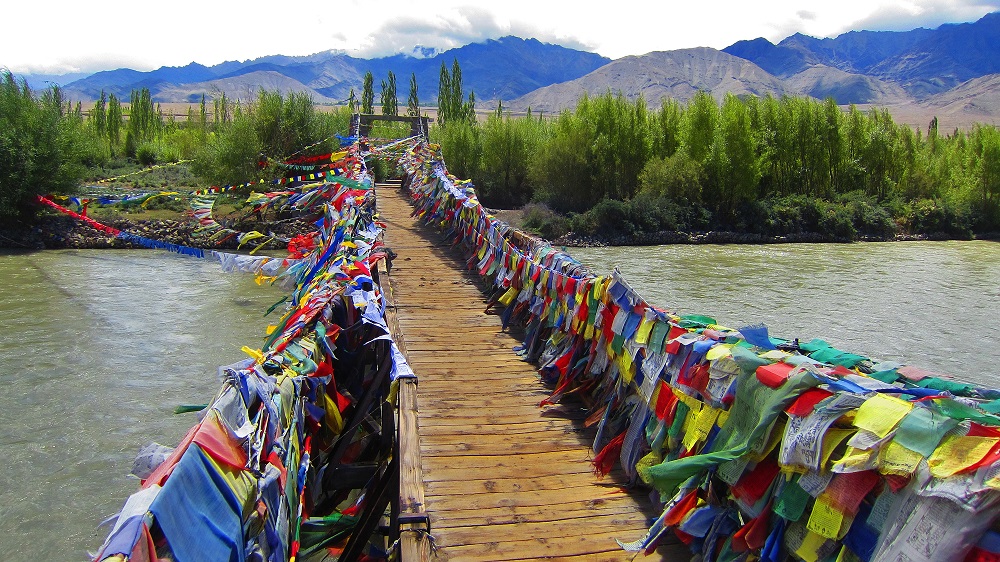 Another relatively easy trek is from Spituk, 10 km away from Leh to Matho, passing through the Hemis National Park. Expect to encounter wildlife as you embark on this trekking journey along the Indus river. As you progress, you will witness scenic mountains, Indus valley's fantastic view, and the shepherd settlements. With each pass, you will be amazed by the incredible scenery, which is nothing less than a motivation to keep moving ahead.
Route: Spituk – Zingchen – Rumbak – Stok la – Mankarmo – Matho la – Ganpoche – Matho
Altitude: 4855 m
Best Time to Visit: May to October
Nubra Valley Trek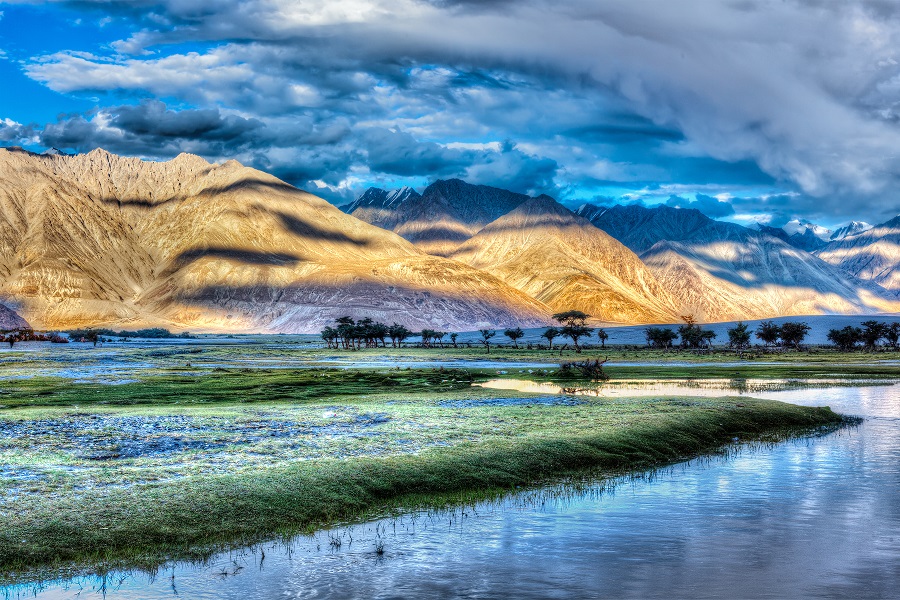 Falling between the easy to moderate level is the trek to Nubra Valley. If your fitness allows you to smoothly trek the easy trails, push your limits and follow the ancient Silk route that was once a famous old route to trade goodies. Historically, Nubra is known as Ldumra, which translates to The Valley of Flowers. Trekking to Nubra Valley means passing through Ladakh's famous monasteries such as Thiksey Gompa and Shey Gompa, and high mountain passes such as Digar La, Khardung La, Lasermo La, etc.
Route: Leh – Khardung La – Kyagar – Hunder – Skarchen – Brok Yogma – Hunder Valley – Lasermo La – Phyang Valley
Altitude: 5496 mts
Best Time to Visit: June to September
Moderate Treks in Ladakh
Lamayuru to Stok Kangri
Are you ready to challenge yourself physically and psychologically? This trek to the higher Himalayas requires more grit and passion. Layamaru lies 126 km away from Leh and is a 9-day trek to Stok summit. Driving along the Indus River, you will cross old monasteries. The trek journey will start from Hinju, and as you ascend and descend the pass, beautiful landscapes and enchanting valleys come to the scene. The breathtaking vista from the summit includes the scenic view of Karakoram Range, Nun Kun, Kang Yatse, Saser Kangri, etc.
Route: Leh – Lamayuru – Wanla – Hinju – Kongski la – Sumda Chenmo Dok – Lanak – Dundunchan la – Chilling – Choksti dok – Palam – Ganda la – Yurutse – Rumbak – Stok la
Altitude: 6153 m
Best Time to Visit: May to October
Markha Valley Trek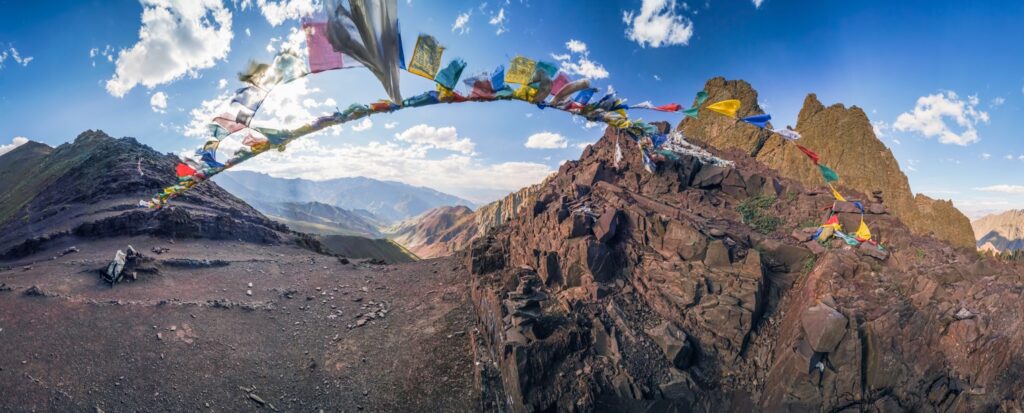 Markha Valley is the most alluring trekking destination in Ladakh. It lies between the Zanskar and Leh regions of Ladakh. Trekking here means waist deep river crossing, spotting Buddhist prayer flags and witnessing Tibetan culture as you pass through the muddy huts & houses in Buddhist villages. Also known as Tea House Trek, it is an exciting point for trekkers as the Valley is rich in flora and fauna, passes and gorges and quaint little hamlets. Cross KongMaru La Pass, and you will be amazed to see the contrast between green and barren land.
Route: Chilling – Skiu – Markha – Hankar – Nimaling – Kongmaru la (17,060 mts) – Shang Sumdo – Hemis
Altitude: 5150 mts
Best Time to Visit: May to September
Darcha Padum Trek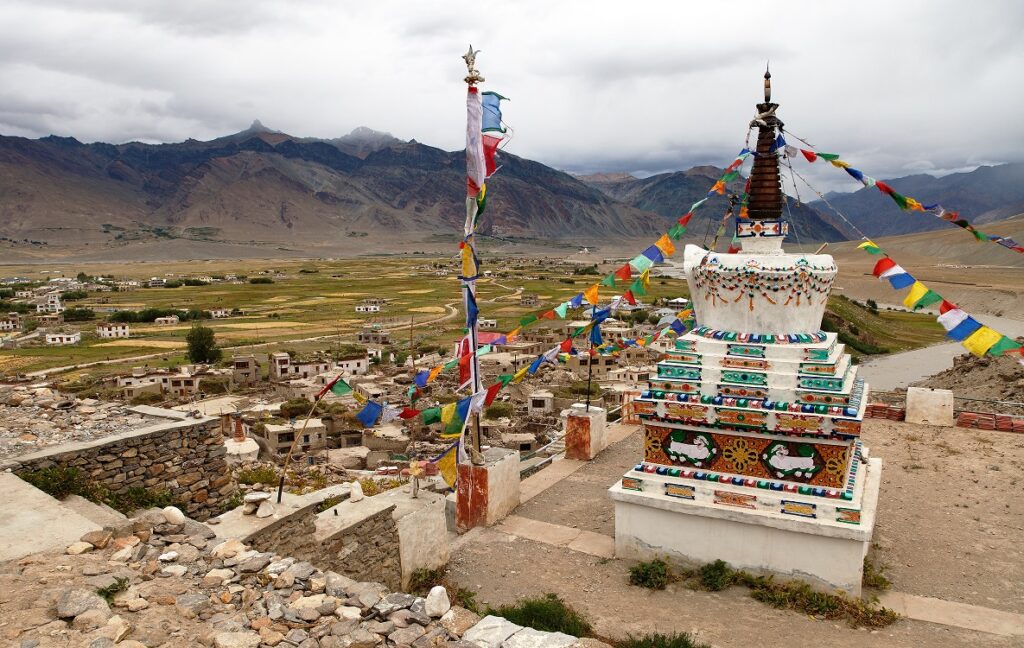 Wanna reach the heart of Zanskar Valley? Darcha Padum Trek is a route of many significant stopovers that goes through ancient monasteries & remote villages. You can camp at the confluence of the two rivers – Chandra & Bhaga – in the Valley. The trek to Darcha Padum goes through the Manali-Leh route. Travelling to this high-altitude pass requires you to pack light and physical fitness.
Route: Rohtang la – Keylong – Darcha – Zanskar Sumdo – Chumik Nakpo – Shinko la – Lakhang – Kayak – Purne – Phibla – Padum
Altitude: 5090 mts
Best Time to Visit: July to September
Advanced Treks in Ladakh
Snow Leopard Trek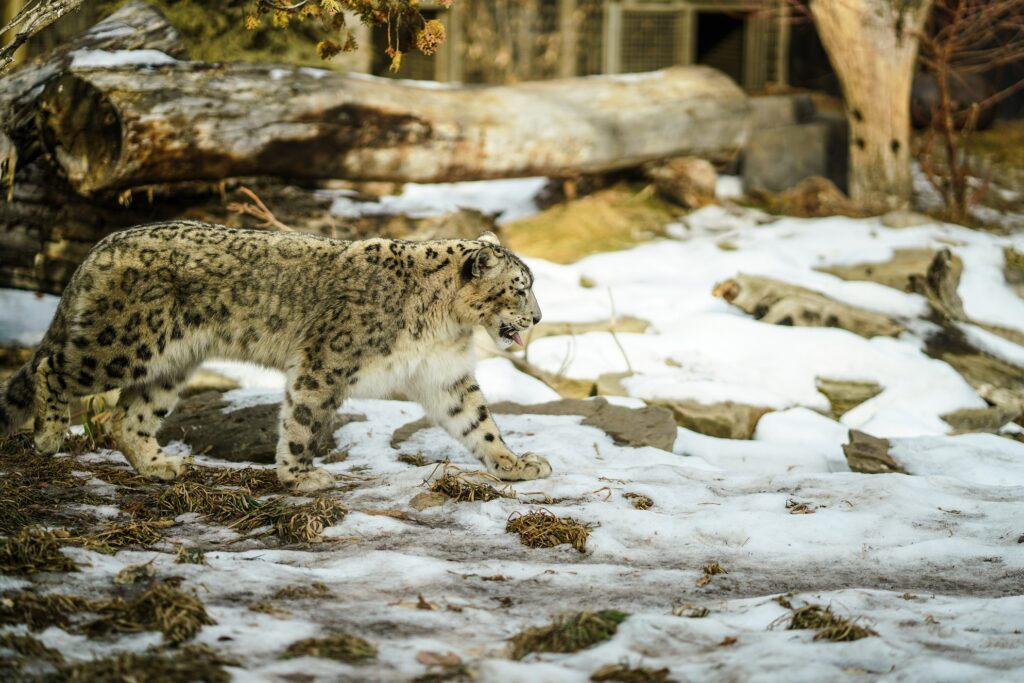 Advanced trekking is a badge in itself. It becomes pretty clear how much you are into trekking the old and new routes at this stage. And every day, while walking the trail, you will find yourself solving a puzzle by being more conscious of your choice. Enveloping the Rumbak Valley is the famous Hemis National Park, from where trekkers begin their journey into the unknown.
As a renowned winter trek, surprises await at each turn, whether Ladakh's ancient kingdoms, culturally rich Buddhist monasteries, Trans Himalayan region encompassing the wildlife, exotic species, & highland avifauna. And yes! The rare luck of sighting a snow leopard.
Route: Leh – Phey – Hemis National Park – Zingchen – Leh
Altitude: 3800 mts
Best Time to Visit: November to March
Chadar Trek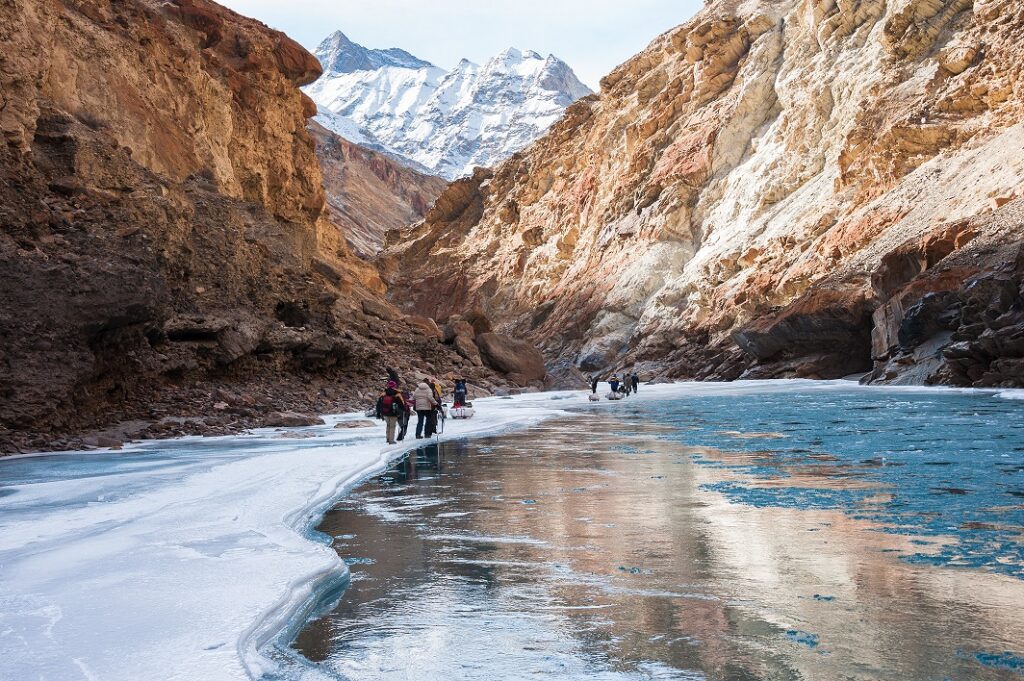 Trekking in Ladakh is usually rough, tough and barren. But the Chadar trek is considered a glamorous trek. Why is it so? Definitely not because it is easy. The perilous trek involves walking on the ice that can melt and break anytime. And so, the route is also not defined as it keeps changing. You have to forge a new way to spot more stable ice where Chadar(ice) doesn't form over the river water. This unique experience is as magical as the incredible picture speaks of. Keep thick camping mattresses and quality gears and tents to ensure a safe trekking experience.
Route: Leh – 2 days Acclimatizing Day – Medical Checkup – Shingra Koma – Chilling – Tilad do – Gyalpo – Tibb Cave – Naerak camp
Altitude: 3390 mts
Best Time to Visit: January to February
Jhunglam Hemis to Padum Trek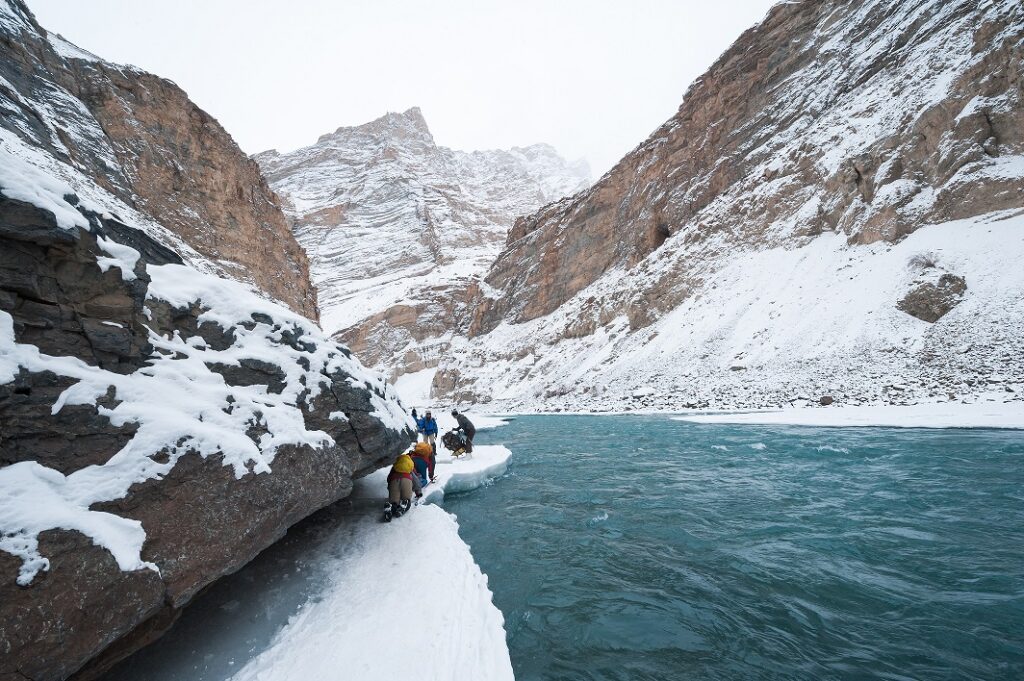 Trekking in Ladakh Zanskar is a one-of-a-kind experience. The frozen Zanskar river entices the professional trekkers to manoeuvre on the thick blanket of snow safely. For the adventurer within you, this trek is not for easy hearts. As exciting as it sounds like walking on ice, one should be aware of the danger and slips it contains. As one of the most challenging treks, don't forget to remind yourself that you are surrounded by snow-covered mountains and experiencing the thrill of walking on the frozen river.
Route: Junglam – Markha Valley – Zanskar
Altitude: 5260 mts
Best Time to Visit: August to October
Safety Information
Keep warm clothes and warmer inner thermal for cold and harsh weather.
Carry trekking equipment such as snow glasses, trekking sticks, headlamps, water bottles, etc.
Pack light and easy since you are going to walk for days.
Bring with you a first-aid kit in case of injury or emergency.
Be aware of icy and rough terrains and check the weather forecast before heading out.
Thick camping mattresses to provide insulation between body and cold surface.
Have in store some energy bars, and essentials