There is always a cultural choice when travelling to a new place. And the food is undoubtedly one of them. The food reflects the culture of a place. Kashmir, known for its enchanting beauty, is also culturally rich in food. Produced and prepared in the Vale, Kashmiri cuisine holds a unique place in the world of gastronomy.
Savour the best of Heaven on Earth, also a food haven for a gourmet. The flavours and fandom it brought with its delicacies are second to none. In the Vale, the mouth-drooling dishes await at every turn. Royal in taste, these Kashmiri foods are a treat for the eyes and taste buds. So, before you start exploring & savouring the local cuisines in Kashmir, know what's in it for you as a reward.
1. Shab Deg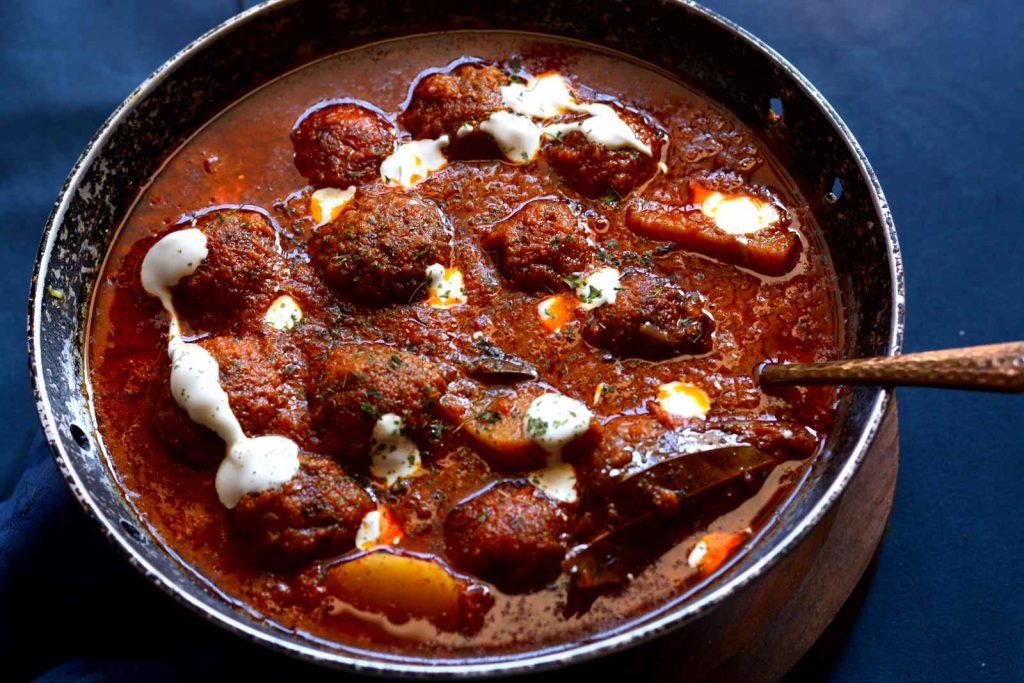 A forgotten dish from the olden days – 'Shab' meaning night and 'Deb' meaning a large cooking vessel is how it is prepared at night as logs flamed on the hearth. This slow-cooking process of Kashmiri Mutton Kofta curry has lost its authenticity over time. Rich in flavour and taste, make sure to relish this exquisite dish prepared on traditional handi (hearth). The delicacy is infused with spicy ingredients after heating it on a simmering fire overnight. This helps bring the flavoursome thickness, colour and texture of the curry. A dish not to be missed if you chance upon to arrive at the right occasion.
2. Celebratory Wazwan
Wazwan is an elaborate 36-dish course specially prepared during a big event or celebratory occasion such as Marriage. This multi-course meal consists of Tabak Maaz, Rista, Kabab, Rogan Josh, Aab Gosht, Daeni Phoul etc. While the only way you can have the Wazwan dish is if you are invited to big parties, weddings or attending any festivals. However, you can still savour their best served as a side dish prepared in restaurants and local eateries.
3. Lyodur Tschaman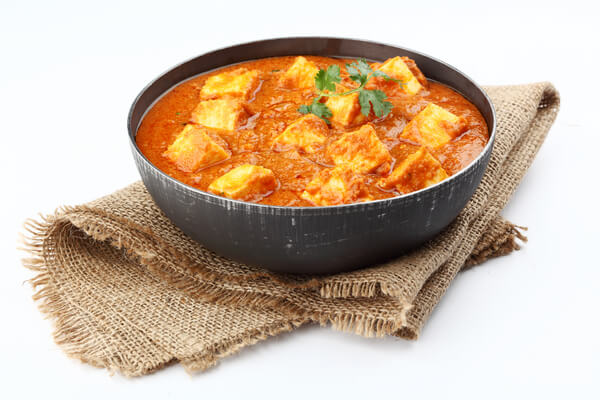 Made with cottage cheese, saffron and turmeric powder, Lyodur Tschaman is a traditional dish prepared in the Kashmiri Pandit's households. It is a popular dish for vegetarians in the Valley served with Chapati or Tandoori Roti. The dish is fried with mustard oil, whisked curd, ginger powder, paneer and Kashmiri spices. Due to its yellow colour in appearance and cottage cheese as the main ingredient, the dish is named Lyodur(yellow) Tschaman(cottage cheese).
4. Nadir Monji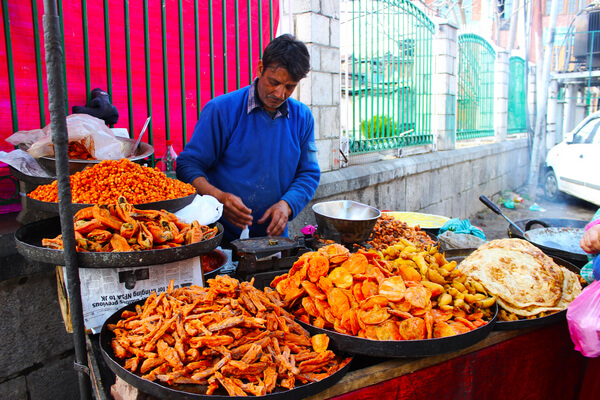 Are you a fan of French fries? Surely try this Kashmiri Street food, which is high in fibre and rich in taste. You will all forget about the former once you munch on this snack prepared from unique lotus stems. Based on a lotus stem recipe, Nadir Monji is a fritter (fried snack) and a go-to Kashmiri snack anywhere. Relatively easier to make than the rest of the amazing Kashmiri food, you can try this simple yet super good source of Vitamin C that is a delight for locals and tourists alike.
5. Sheermal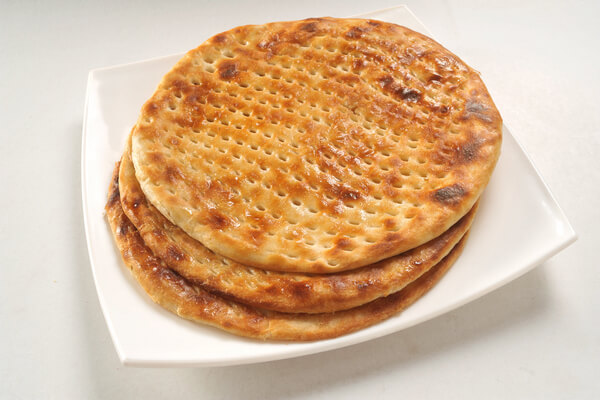 What's melting in your mouth? It's Sheermal, a popular Kashmiri flatbread dish flavoured with saffron. The Mughlai bread complements the meals of both vegetarians and non-vegetarians. It is crispy and sweet, and the bread's fine aroma increases the appetite of the one feasting. This delicious delicacy is a must-try with traditional Kashmiri food dishes. It is also easy to prepare at home. So there's an easy recipe you can take back home.
6. Thenthuk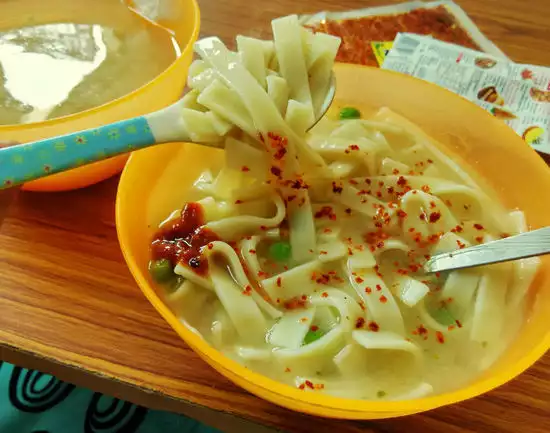 Did anyone say soup? Delicious and healthy, Thenthuk is a speciality of Leh. On your trip to Leh Ladakh, don't forget to try this delicious soup added with meat and vegetables. Thenthuk is a sister soup of Thukpa, another Kashmiri delicacy. Though both are noodle-based soups, the distinctive feature is the shape of the noodle where the dough is flattened in Thenthuk, unlike the modelled one in Thukpa.
7. Aab Gosht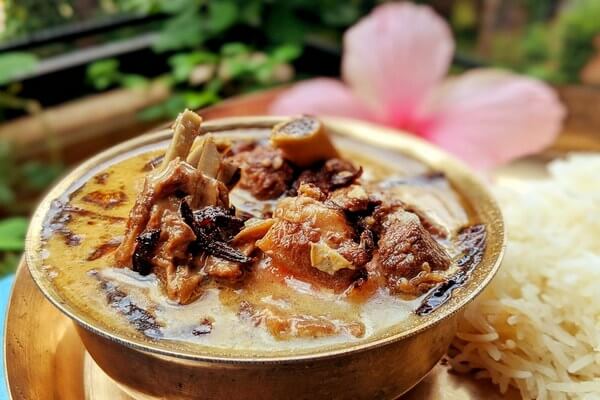 Gostaba is a Kashmiri dish that is fit for royalty. After all, it is a dish that constitutes one of the famous multi-course meals of Wazwan. The minced mutton is cooked in yoghurt, milk and spices. It has a distinct flavour that will transport you right to the royal dining table as you relish the dish with flavoursome saffron rice. If you want to get a taste of what it's like to be a king or queen, this is the dish for you.
8. Rogan Josh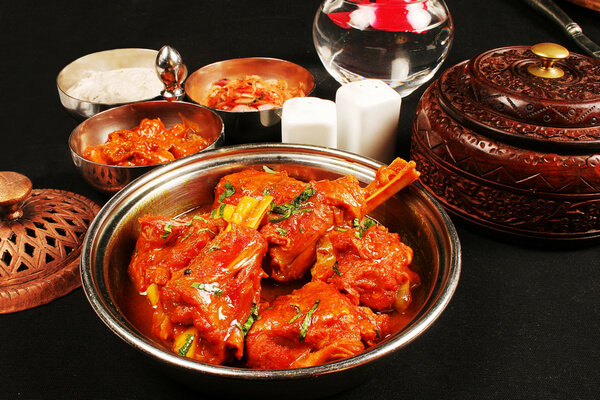 Kashmiri cuisine is known for its rich flavors, and the Mutton Rogan Josh is no exception. This dish consists of tender mutton, fried onions, fresh yoghurt, and a generous amount of red chilli powder. The latter ingredient gives the dish its characteristic red hue. If you're looking for a traditional Kashmiri dish to start your culinary journey through this region, the Mutton Rogan Josh is an excellent choice. Not to mention, the dish has a Mughlai connection