The Valley of Kashmir is not just a land of paradise but also that of religious pilgrimage. From ancient times, Kashmir has been considered the holiest land of India. After all, some of the most important and revered places are found here, such as the Holy Cave of Shri Amarnath Ji, the sacred site of Mata Vaishno Devi, and other prominent religious spots. Notably, this paradisiacal land is a worshipping site for Lord Shiva and Shakti. Be it Shankaracharya Temple, dedicated to God Shiva or Mata Kheer Bhawani Temple of Village Tula Mula, dedicated to the Goddess Parvati, travelling for these religious sites has substantially given rise to Pilgrimage Tourism.
One such pilgrimage site of great reverence and profound impact is Kheer Bhawani Temple in the Ganderbal district. Widely celebrated and prominent for its miraculous spring.
The site is regarded as the most sacred among Hindu devotees, especially the Kashmiri Pandits of the Valley. The temple is located approximately 26 km, an hour's drive from Srinagar near the Tula Mula village.
The shrine of Mata Kheer Bhawani is dedicated to Goddess Ragnya, an incarnation of Mata Parvati, consort of Lord Shiva. She is believed to be originally from Sri Lanka. Goddess Ragnya in Sri Lanka is known as Shyama.
Whereas in Kashmir, she is referred to as Tripura. The origin and existence of Kheer Bhawani Temple are fascinating, and one can wonder how a Goddess from Sri Lanka came to be worshipped widely in Kashmir. To know the secrets of Kheer Bhawani Temple, it is important first to understand its history.
History of Kheer Bhawani Temple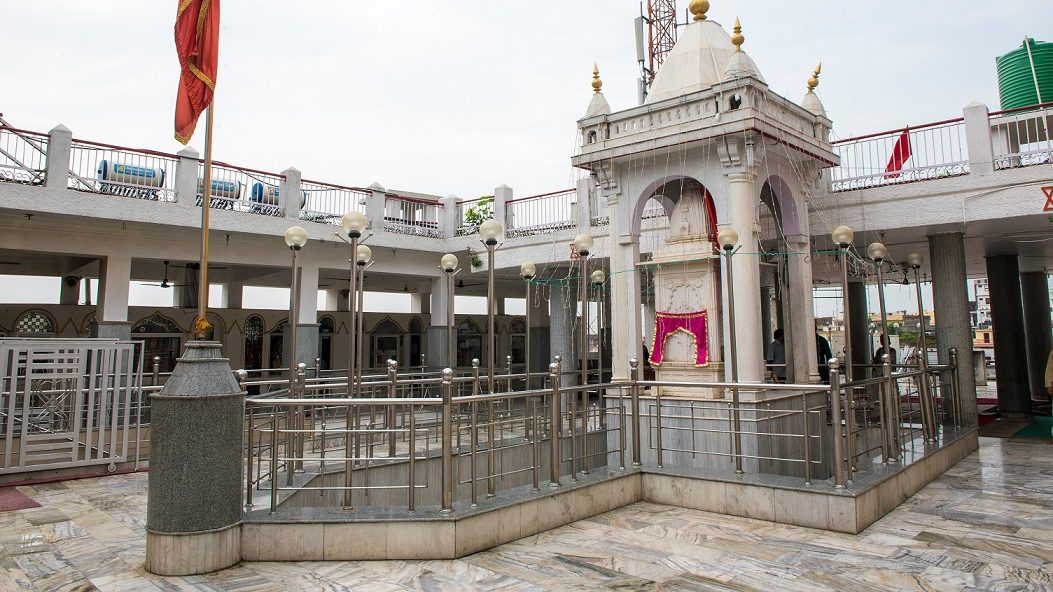 Bhawani is one among many forms of Goddess Parvati. At the Kheer Bhawani Temple in Kashmir, she has manifested herself in 'Vaishnav Roopa.' Ravana, the ruler of Sri Lanka, was an ardent devotee of Lord Shiva.
Still, very few know that he also fervently worshipped the Vaishnav Roopa (Shyama in Sri Lanka) of Maa Durga. Naturally, pleased with his devotion and dedication towards her, Mata appeared to him in the Bhawani form, bestowed her blessings and manifested to him in all her nine forms.
Not long after that, Ravana started bringing havoc and chaos wherever he went. Displeased by his actions, she left the place and instructed Lord Hanuman to fly her off to the mouth of the Sindh Valley.
Where River Sindh empties itself into River Jhelum. Thus, the natural spring of Kheer Bhawani, nearby Tula Mula village, became the chosen abode of Maa Durga.
Secrets of Kheer Bhawani Temple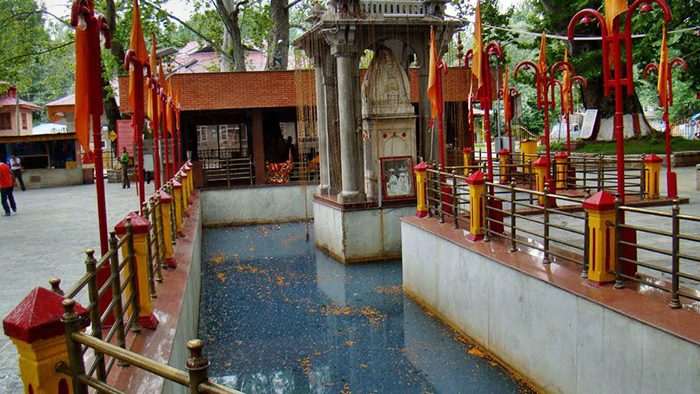 The sacred spring of Mata Kheer Bhawani is believed to have divine and healing powers. The spring is famous for changing its colours (red, blue, green, pink, orange, violet and white), and the sacredness of spring is deemed in the highest regard by priests, locals and believers.
The phenomenon of changing colour was also noted by Lawrence (2005), where he explained, "when I saw the great spring of Kheer Bhawani at Tula Mula, the water had a violet tinge, but when famine or cholera is imminent the water assumes a black hue." The main spring has an irregular shape to it.
The temple around this natural spring was built in 1912 by Maharaja Pratap Singh. Thus, the structure and the temple pond tourists see today is a later development. Later, Maharaja Hari Singh, former king of Jammu & Kashmir, renovated the temple. Swami Vivekananda, too, visited the shrine in 1898.
Bewitched by the aura, he felt a natural devotion towards Mata Kheer Bhawani and even meditated under a Chinar tree. The tree is still present there and is a popular attraction for those who arrive here.
Festivals and Celebrations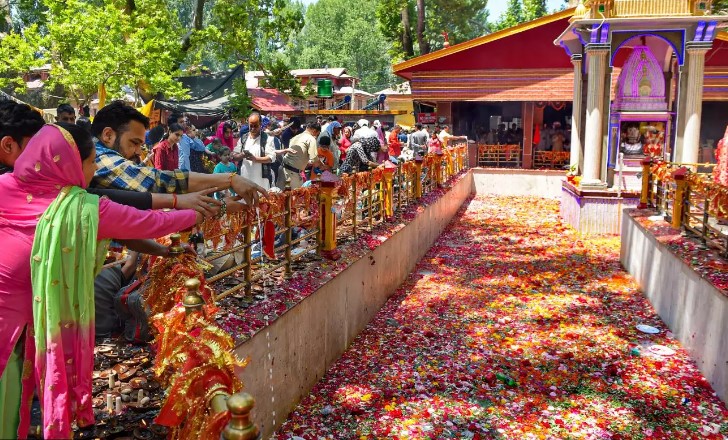 The deity is worshipped by her devotees, who come with their offerings, Kheer (a sweet dessert made from rice, milk and sugar). The prefix 'Kheer' before Bhawani is actually the Prasad (sacred food) offered to Maa Bhawani, thus the name Mata Kheer Bhawani. The sacred site of Kheer Bhawani Temple holds tremendous value, especially in the hearts of Kashmiri Hindus.
An annual festival is organised in the month of May-June on the occasion of Jesht Ashtami (the eighth day of the full moon). Thousands of devotees gather to worship Mata Kheer Bhawani, bringing their delicacies to offer to her (mainly Kheer) and seeking her blessings. Besides, they also gather to celebrate the occasion of 'Navreh,' Kashmiri New Year, to pay their respects.