To the southeast of Dal Lake, on the slopes of the Zabarwan hill, lies Pari Mahal – The Palace of Fairies – a stunning Mughal marvel built by Prince Dara Shikoh in the mid-17th century. For the uninitiated, Dara Shikoh was the eldest son of Mughal Emperor Shah Jahan. Inspired by the School of Sufism, Dara Shikoh built the Fairies' Palace for his spiritual tutor Akhund Mullah Muhammad Shah Badakhshi.
The seven-terraced structure houses gardens, pavilions, a hammam (Turkish bath), terraces and a small library. The terraced seminary-cum-library was used by Dara Shikoh and his sister Jahan Ara as a library and an observatory for astronomy studies.
Scholars and astrologers from around the world were invited to study in the palace by Dara Shikoh. And soon, this place became a platform for coming together of different philosophies, learning, art & culture and where academics, poets, and philosophers congregate to exchange their ideas, knowledge and thoughts.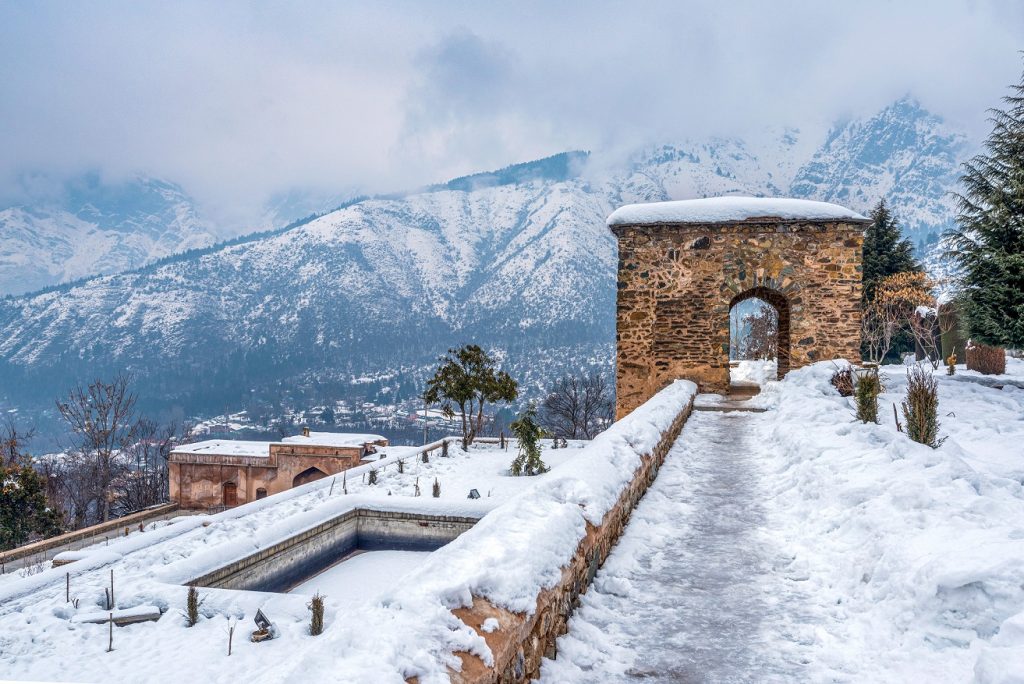 The palace is renowned for its distinctive architectural style, which combines Kashmiri and Islamic architectural elements. The Palace of Fairies is also known for its intricate stone carvings and arched walkways, which reflect the Mughal architectural style. Several tiered gardens, fountains, and water channels can be seen throughout the palace complex.
These features were employed for irrigation and cooling during the sweltering summers. For Dara Shikoh, Pari Mahal was his favourite summer retreat.
The first six terrace styles are inspired by Mughal fashion from the period. As you move from one terrace to the next, you will notice the erected pavilion and springs channelling water to different decks from there, as well as a series of recessed arches in the wall that are aesthetically pleasing to look at.
Each terrace is designed differently; some have a pavilion with an open view of Dal Lake, while others have fountains and water tanks. A few are blends of structures found in the respective lower terrace. For example, the fifth terrace has a tank with a pavilion. This pavilion is distinctive in design, for the upper portion of it has perforated square holes. This suggests Dara Shikoh's love for birds.
Apart from that, this historical monument offers a magnificent view of the entire city with Dal Lake in the foreground and even the faraway famous sight of Shankaracharya Hill and Hari Parbat Fort. According to legend, fairies frequented the castle and spent evenings dancing among the magnificent gardens and fountains.
How to Reach
To reach Pari Mahal, you can take a taxi or car from the Srinagar airport or the city centre. This will take approximately 1-hour ride. You can also take a bus or auto-rickshaw to the base of the hill and then walk or take a pony ride to the top. Visitors can explore the palace and its grounds and take in the stunning views of the surroundings at this well-liked tourist attraction.
Best Time to Visit Pari Mahal
Timings: Every day of the week, excluding Friday, from 9.30 AM to 7.30 PM.
Cost: INR 20 per person.
Pari Mahal is known for having the most magical sunsets. Therefore, the best time would be at dusk, in the evening.
A travel lover and moody chef, Surbhi loves to read & write and doodle in her free time. For her, being able to write is a blessing, and to keep at it—a work-in-progress. When not working, you can find her swimming her worries away, dancing to the beats, or filling up her bucket list to tick them off.