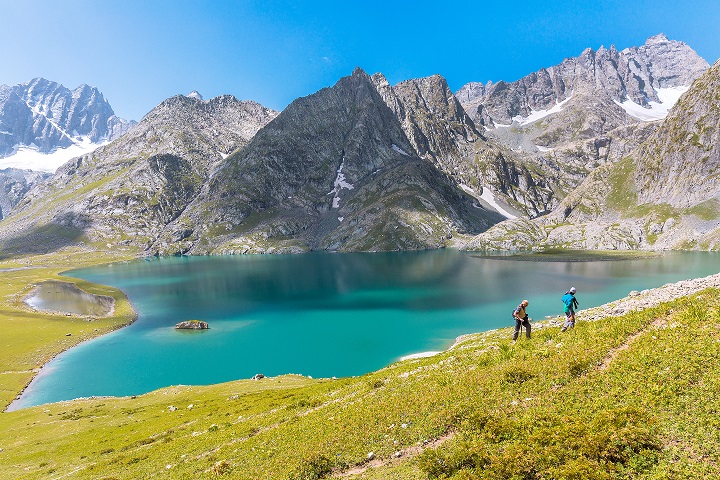 Have you ever been to the most iconic trekking expeditions of your life? The chances are that you may not know that there exists one. Picture this: A Valley of the flowery meadow, surrounded by snow-peaked mountains, and hidden at this Valley's high-altitude passes is Seven Alpine Lakes, one of which is said to change colour, while others are waiting to be discovered. If the passion for trekking didn't bring you to Kashmir Great Lakes Trek, then you missed out on Nature's majestic miracles.
Through the maple and pine forests and undulating trails, one keeps going, trekking multiple high-altitude passes to arrive at the Kashmir Great Lakes. Considered one of the most beautiful treks, you will come across pristine lakes, rocky terrain, gushing streams, nomadic shepherds, towering peaks, glacier lakes, and absolutely everything you can associate with Nature.
Kashmir Great Lakes Trekking begins in the Valley of the Golden Meadow – Sonamarg. A week-long trek in Kashmir Himalayas will reward you with a spellbinding view as you pass through the majestic lakes one after another. Undoubtedly, it is one of the best trekking places in Kashmir, yet presenting the top 5 reasons it should be on your to-do list.
Know the Seven Alpine Lakes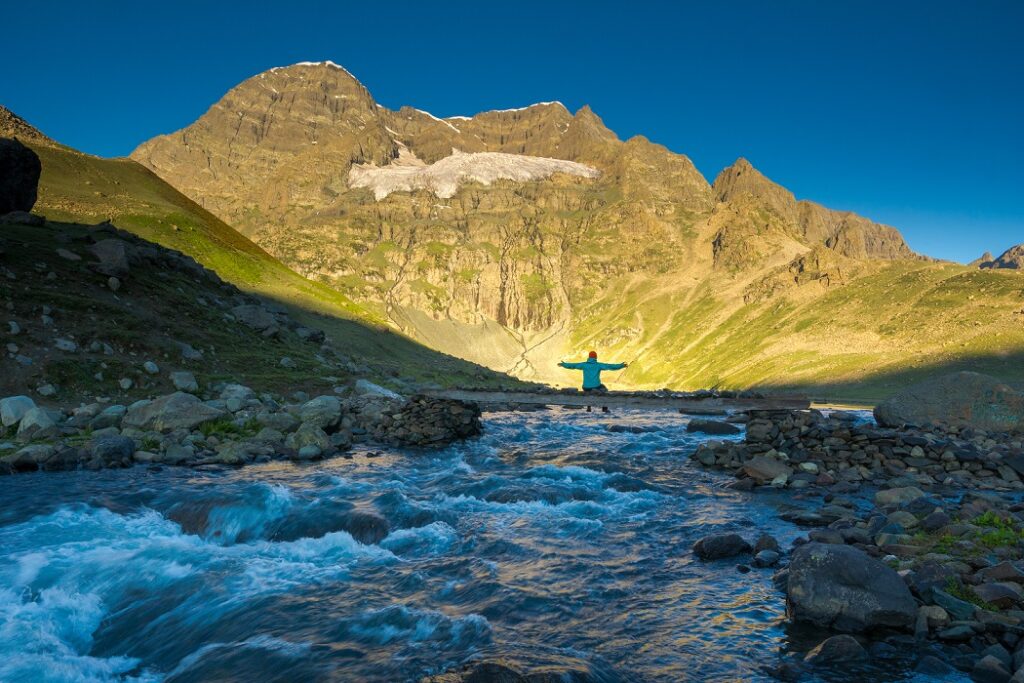 While most trekking begins to witness the spectacular view from the summit, Kashmir Great Lakes Trek is a delight as soon as it begins. The route involves descending the snow-covered Shekdur Range before trekking towards Nichnai Pass and arriving at the first lake, i.e., Vishansar Lake. Find yourself surrounded by the lush greenery and wildflowers secured in the Himalayan arms as you find more such lakes as Krishansar Lake, Gadsar Lake, Satsar Lake, Gangabal, Nand Kol, and Tarsar/Marsar Lakes.
Take up Angling Activity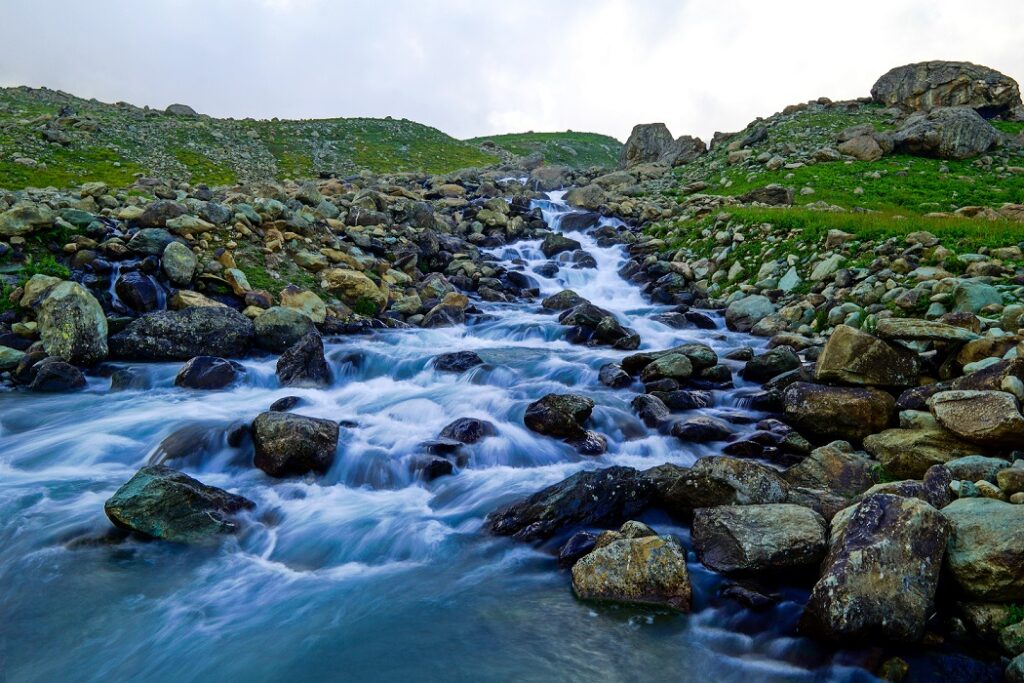 This world-famous Great Lakes trek will not only lead you to the stunning landscape and enchanting beauty but is also famous for fishing. You can try high-altitude fly fishing activities in the Indian Himalayas. Indigenous varieties of snow trout fishes are found in the glacier streams of Vishansar and Gangabal Lakes. Kashmir is a famous angling destination, and taking up this sport in the alpine region is an unmissable activity, especially when it is Kashmir Great Lakes.
Enjoy a star-studded Camping
Once you walk on this incredible trek, you will find the land beneath you lush green, the mountains calling your name, fleecy clouds crowning your glory and an enchanting vista to camp your stay. And what a magical moment it would be to camp beside Vishansar, the colour changing lake. Blanketed under millions of stars, surrounded by maple trees amidst the pristine setting and feeling the breezy wind, the camping experience at Kashmir Great Lakes (Gadsar, Satsar, Gangabal Lake) offers an unforgettable experience.
Trek the Glacier Lakes
Elegant yet elusive from the visitors' eyes are the twin sister Tarsar-Marsar Lakes. Both these lakes share proximity, yet Marsar is more secluded in nature, hiding under shrouds of clouds. Tarsar lake is also said to change colours from turquoise to different shades of blue. A camping experience emits an otherworldly vibe. The starry night and sunrise view add to the lake's grandeur. And if you are lucky, you might be able to spot black bulbs and Himalayan golden eagles sitting beside these lakes.
Get acquainted with Nomadic Shepherd life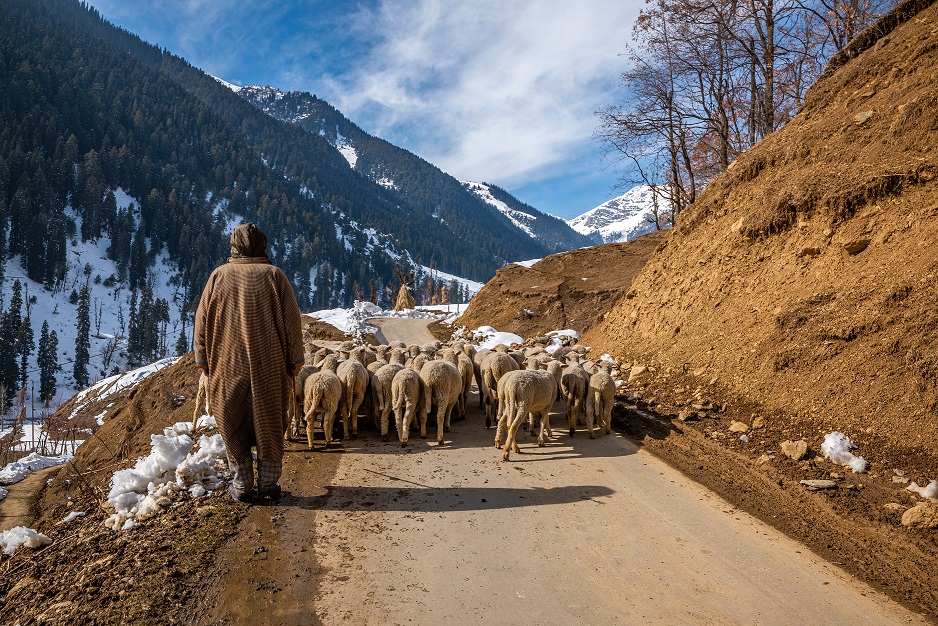 Before embarking on the Great Lakes Trek Route, acclimatize to the hilly condition. During that period, get a glimpse into the life of nomadic shepherds and observe their way of life. Knowing the culture of any region adds to a meaningful journey. Understand what it's like to be living there daily. It's a great way to expand social circles and meet people you would hardly be able to know otherwise. Not to mention how it leads to behaving responsibly with mutual respect towards each other.
Route: Sonamarg – Naranag – Nichnai Pass – Vishansar Lake – Krishansar Lake – Gadsar Lake – Satsar Lake – Gangabal Lake – Nand kol, Tarsar/Marsar Lake
Best Time to Visit:
June to September
Author is a student who loves to explore new corners of learning. He likes writing and travelling while taking challenges that question his abilities and skills. His hobbies are helping people and spending time in nature.