Travelling to a new and unknown place means figuring out a way to make the best of a stay, finding an abode far from their own, yet looking for the comfort of a home. And what if this home gives you a floating dream to do as you please? Whether cruising on a lake or witnessing sunsets and moonrises with the silhouette of a mountain range in the backdrop, this paradisiacal home is none other than Kashmir's vintage houseboats.
Offering the best of both worlds, where mountains envelop the majestic surroundings overlooking shimmering lakes and enticing to stay with its warmth, Houseboats in Kashmir offer a luxurious stay that is unique in itself for making anyone's stay memorable and one-of-a-kind.
Moored along the periphery of Dal and Nigeen Lake are decked up some of the oldest and longest surviving traditional Houseboats. Equipped with all the modern-day facilities, a few have rightfully earned the name of being the Best Kashmiri Houseboats. Listed are the Best Houseboats in Dal and Nageen Lake that have won the stars and their guests' hearts.
WelcomeHeritage Gurkha Houseboats, Nageen Lake
Anchoring the houseboats of Gurkha is the generation of families who have been in this business for seven generations. Featuring 18 rooms with an open lawned verandah and fragrant garden, you can enjoy a variety of experiences and locations throughout Dal Lake. Once you confirm your stay here, you will be awed by the surroundings and the incomparable beauty of this natural wonderland called Kashmir. Besides the pleasant weather perfect for relaxation and entertainment, you will be delighted by their courteous service, delectable cuisines, tranquil setting and facilities such as Jacuzzi, refrigerator, Flat-screen TVs, minibars, etc.
2. Meena Group of Houseboats, Dal Lake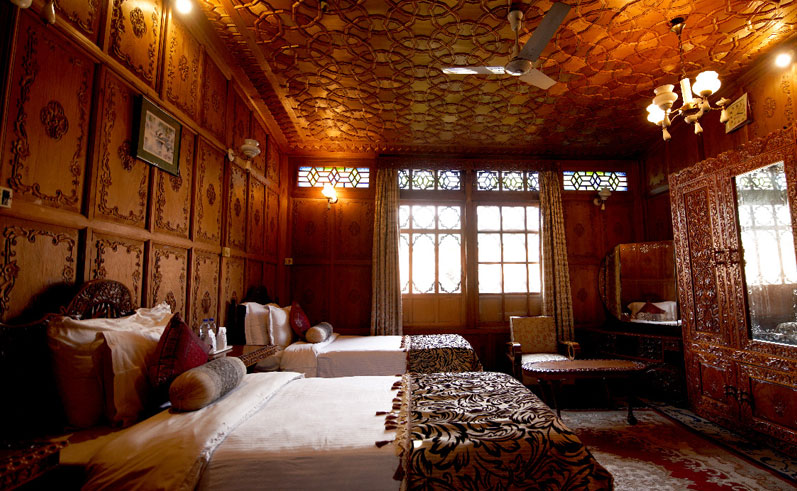 Well-preserved since it first opened in 1933, Meena Houseboats exudes the aura of colonial times with its vintage feel but with promises of modern amenities. The luxuriously styled rooms have stunning views, private gardens, and facilities such as rain showers, hot tubs, and a central heating system to keep the room warm. Get ready to feel welcomed by the courteous staff who will lead your way to the inside of the elegantly designed Houseboats. Located near Ghat No. 13, the place is an easily accessible point to any other locations. Like the brilliant views it offers, the dining here is also fabulous, with a locally-inspired six-course menu.
3. New Jacquline Heritage Houseboats, Nageen Lake
Founded in 1912, New Jacquline Heritage Houseboats pamper you by meeting all of your staycation needs. When you first arrive here, you will be greeted by friendly staff who will make you feel at home and serve you a special drink – Kahwa- which is native to the area. Their hospitality is at the next level as you will be assigned your own butler with whom you can present your choices, and they will ensure that your needs are met. An open deck welcomes you to the mesmerising view of sunrise and sunset. Serenity and greenery envelopes each step of yours wherever you will head. Lush-green lawn to relax and even dine under the open sky. Here, you will get a 24/7 hot water facility with superb hygienic conditions, and if you are lucky, you might get a Shikara ride at a discounted rate.
4. Khilona Heritage Houseboats, Nageen Lake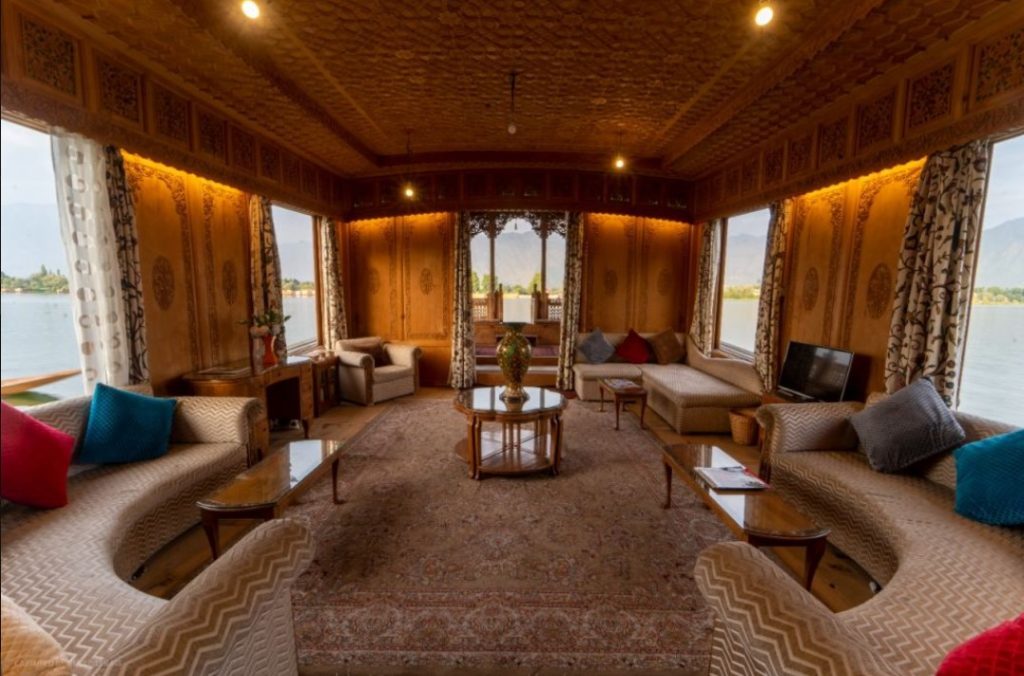 If you want an unforgettable stay with superior hospitality and prompt service, this Heritage Houseboat is it! The intricate carvings on the wooden wall brighten up the whole place. Known to offer an amazing view of the lake, here you can take a Shikara ride at a reasonable price. Experience the charm of the old world with this Houseboat that has managed to modernise itself with time. The room here is spacious with extra-long beds and an attached bathroom. The houseboats even have a library; the food here is all fire and smoke, for it has BBQ facilities.
5. Chicago Houseboats, Dal Lake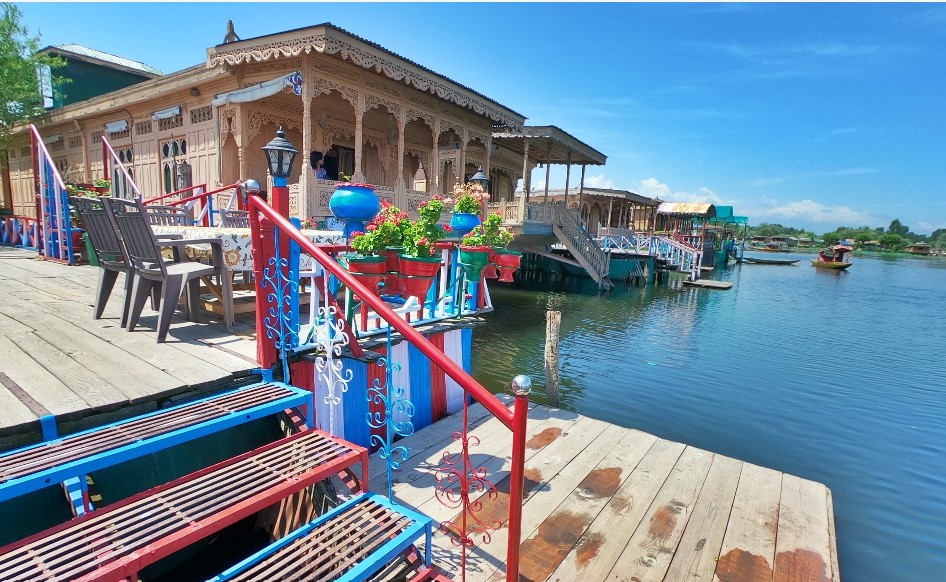 Name your dish, and it shall be served. This is the custom of the humble staff here at this floating abode. Surprise not if you happen to find home-cooked hot meals served right at your whim. Here at these Houseboats, you can enjoy Rogan Josh and chicken curry dishes – or sample them all! The best part is that prices are family budget-friendly, so there's something for everyone, from dessert to tasty treats. Chicago Houseboats are famous for their well-maintained, modernised and comfortable space. Their warm familial hospitality, clean rooms with hot water, and divine food make up for a pleasant stay.
6. Sukoon, Dal Lake
Sukoon is an eco-friendly resort. Environmentally sound, the Sukun Resort brims with overgrown greenery. It has five en-suite bedrooms, each named after a flower blooming in the Mughal emperors' gardens. Located amidst stunning floating lotuses, the houseboat allows guests to view stunning mountain ranges and overlooks lotuses opening their petals as if to pay homage to the morning sun. Rooms with hotel-like amenities such as rain showers, hot tubs and large sundecks can be enjoyed by guests. The bedding is also eco-friendly, with hypoallergenic covers and pillows stuffed with fibre from the sacred lotus plant. Needless to say, a stay at Sukoon Houseboats will fill your heart and mind with peace.